Friday 24th September Newsletter
Dear Parents/Carers,
We have been back at school three weeks already…time has flown by and the children and staff are working incredibly hard. We are pleased that the Government has recognised the need to provide some extra funding for two terms for schools to support children to catch up on missed learning caused by coronavirus. Schools are expected to use this funding for specific activities to support their pupils' education recovery in line with the curriculum expectations. Groups of children are receiving extra support as part of this recovery work. Staff have identified children, to work daily for three week periods with Mrs Monkton to accelerate progress towards particular targets. They really enjoy this time in a small group working on achievable targets. If your child is selected over the next two terms to be part of this recovery programme then a text message will be sent to you.
Learning happening in school!
Nursery
The children are settling well into nursery routines and are enjoying exploring the environment. The children are working on developing relationships with the other children and adults in the setting. They have made a good start to their learning journey at Blanford Mere Nursery.
Reception – Communication Language and Literacy & Knowledge and understanding of the world
In Reception, children are really enjoying our story focus in Literacy called 'Errol's garden'. We have been planting flowers in our very own garden and learning all about how to look after plants. Children have had opportunities to gather a variety of natural resources such as twigs, leaves and pinecones to do some mark marking using paint outside. Children are really engaged with Morrison's 'It's Good to Grow' scheme.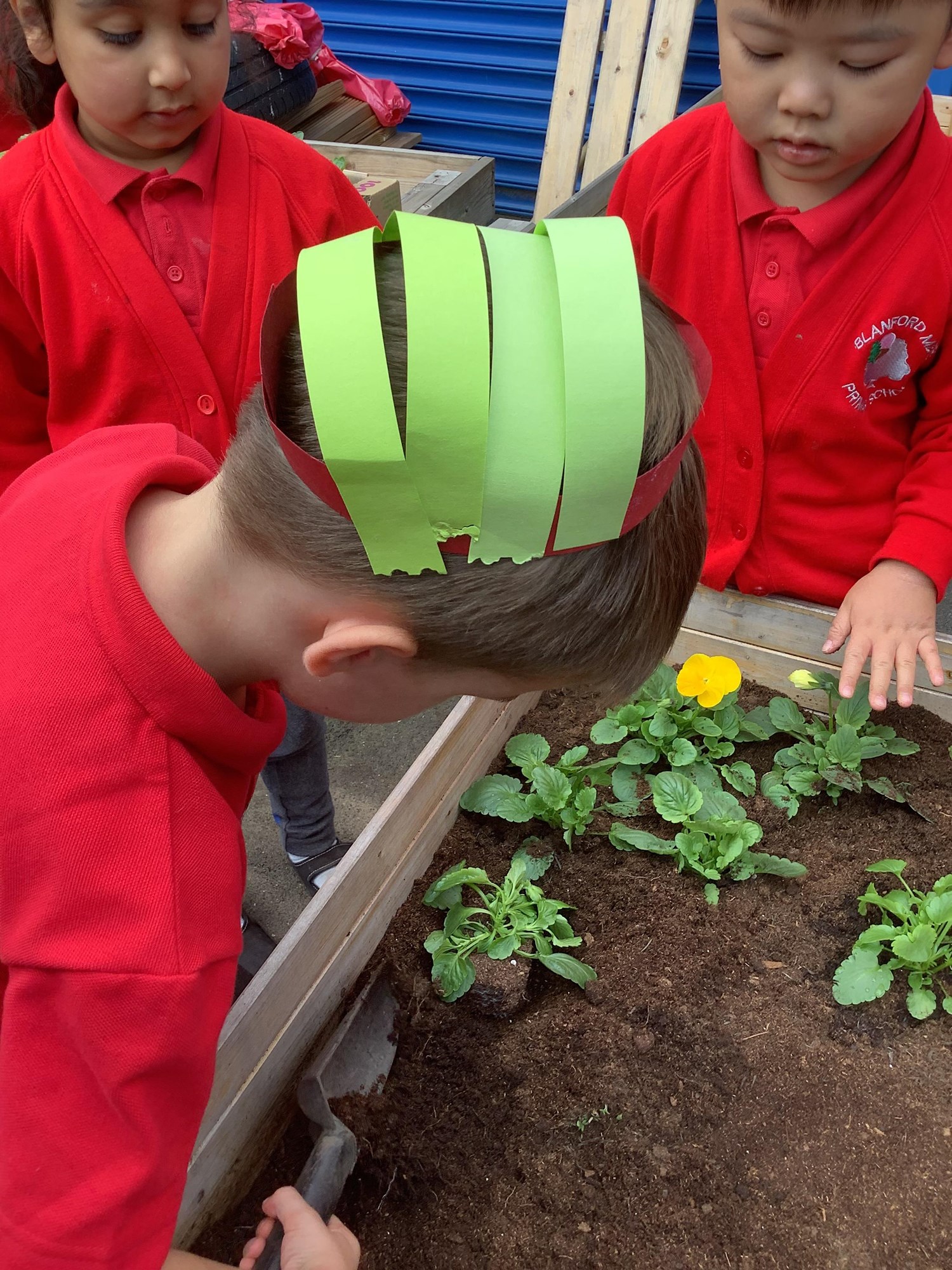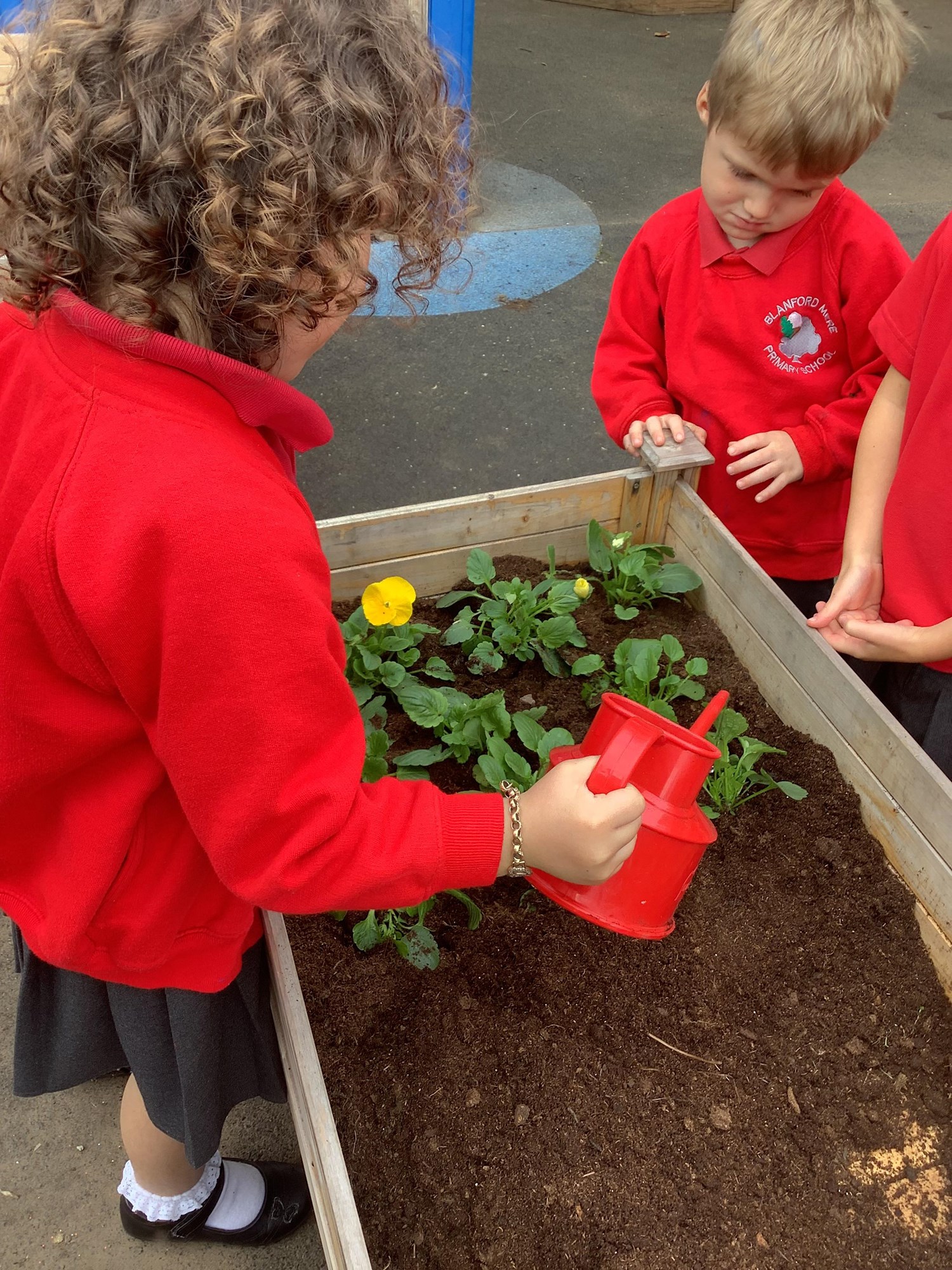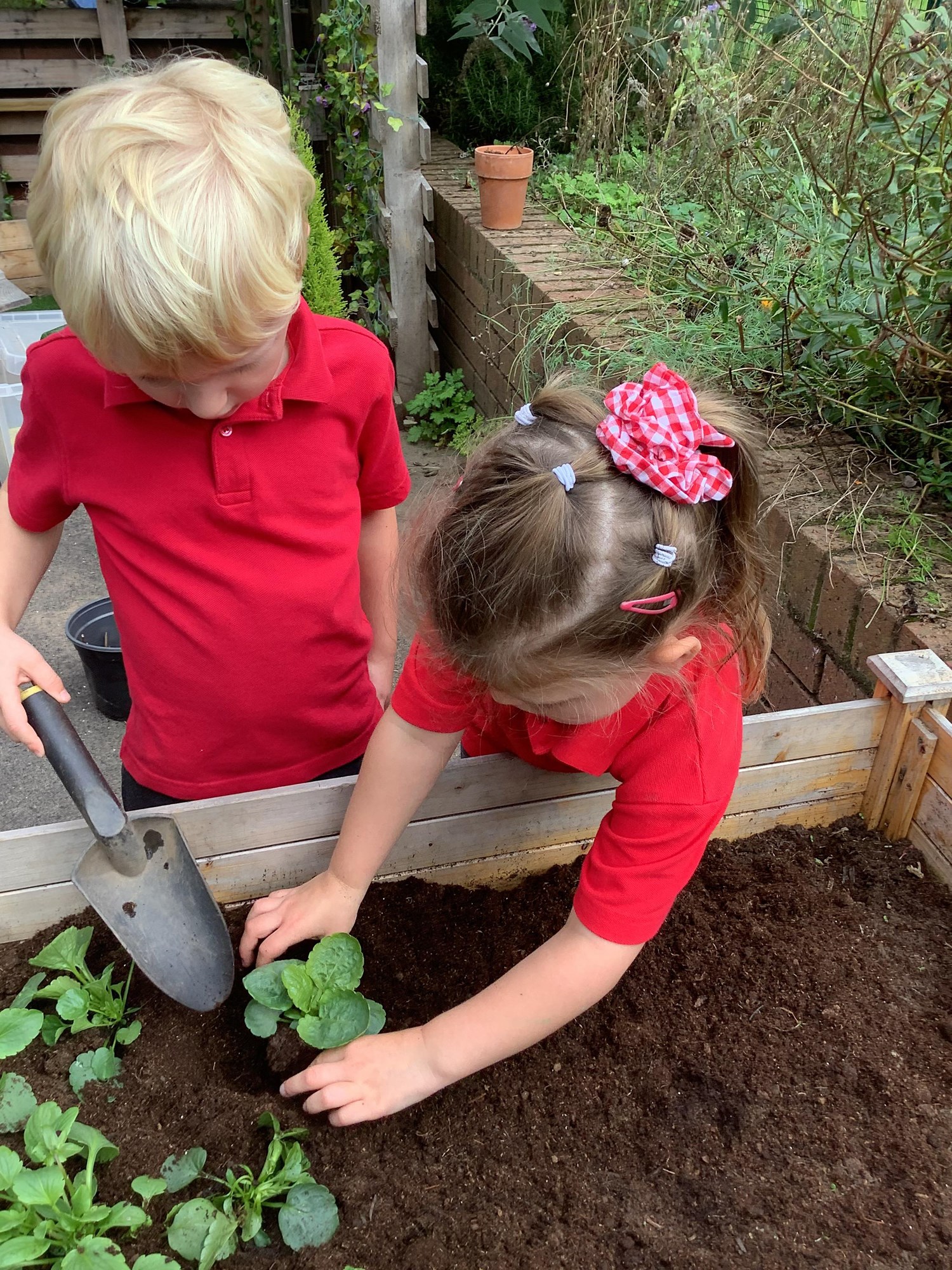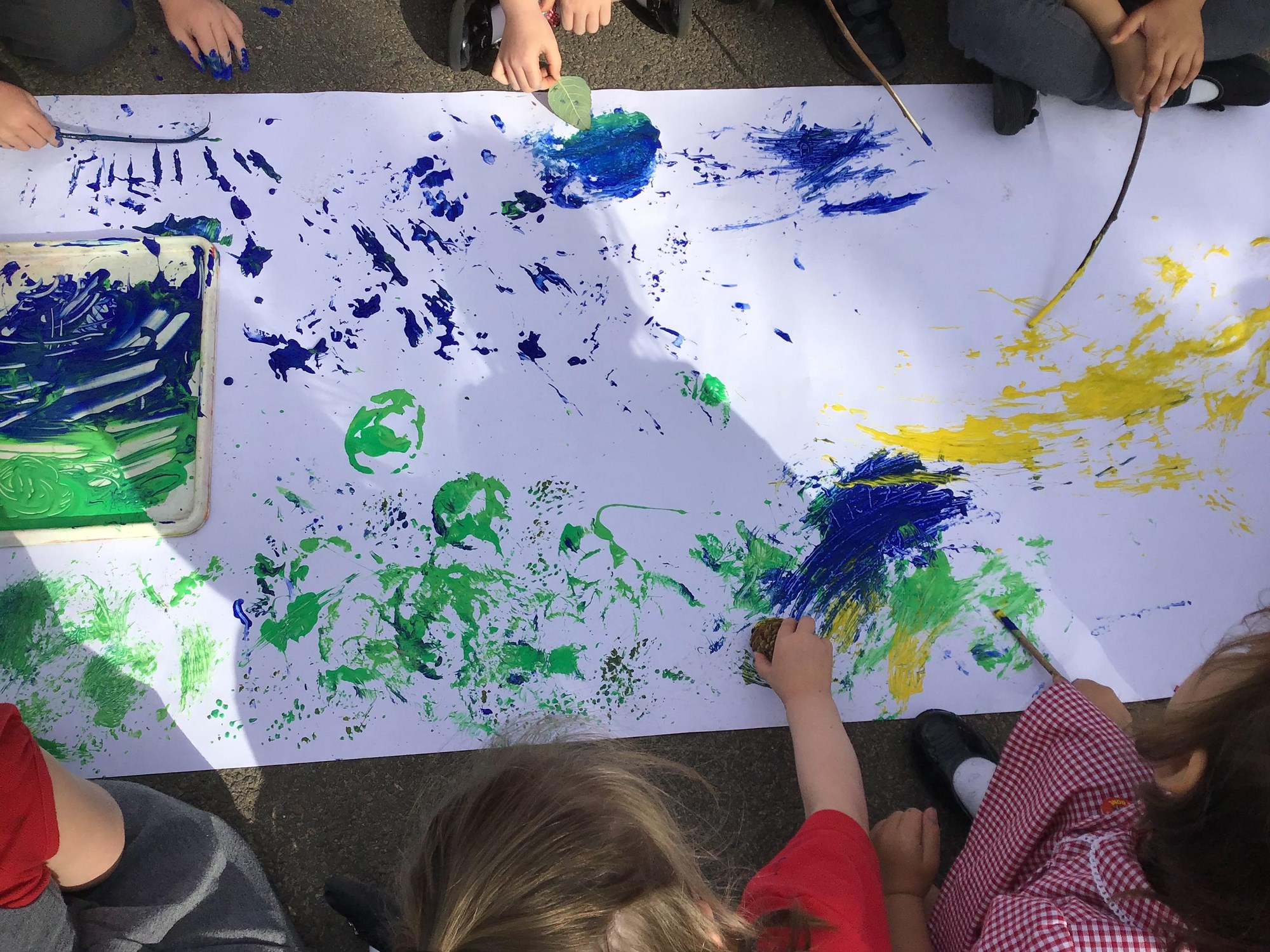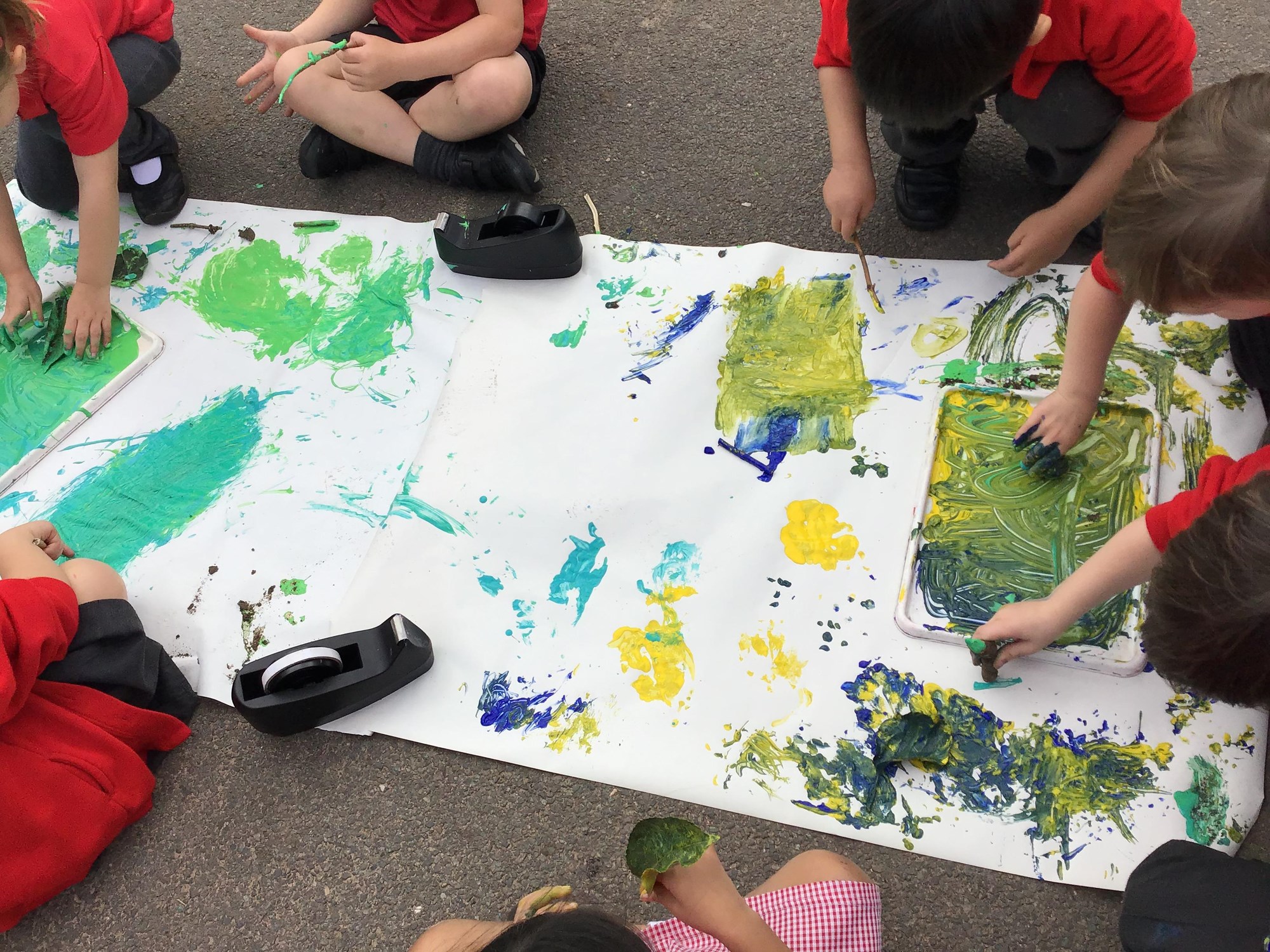 Year 3/4
Year 3/4 have been very busy and have settled really well into their new classes.  In the first 2 weeks, we focused our learning around the book 'The Promise' and really enjoyed learning about how the environment around us can really affect how we feel.  We worked together in small groups to create a 're-wilding' project for part of the field; deciding what we would like to plant and how we would encourage wildlife and nature.  We researched and costed our projects and even wrote and recorded a speech to Mrs Miller to try to persuade her to fund one of our projects!
This week we've started working on our usual curriculum and have been introduced to our Victorian's topic by finding out lots of information about Queen Victoria.  We've also started our Science topic of 'Light'.
The children had this to say about their learning:-
Zara - Year 4 - I enjoyed the first 3 weeks of school because I enjoyed doing the shadow tree painting in art.  I also enjoyed our first Science lesson on light because it challenged me.
Mason - Year 4 - I really enjoyed working on The Promise when we created our Oak tree life cycle leaflets and I've also really enjoyed finding out about Queen Victoria.
Josh - Year 4 - I really enjoyed working on The Victorians because I learnt a lot of new things that I didn't know and I'm looking forward to doing more Art.
Daisy-Mae - Year 3 - I enjoyed learning about The Promise, The Victorians and Light because it interests me and inspires me to be a scientist when I'm older.
Willow - Year 4 - I liked The Promise because the person had an idea and then everybody listened and worked together to follow the idea. I enjoyed working as a team to think of our own garden.
Sam P- Year 3 - I liked our learning on the Promise. We got to think of adjectives to describe the city. It was fun to do our own script and video for Mrs Miller.
Year 5/6 Science
Our Year 5-6 Science lessons have been very busy so far! We're learning to identify and draw circuit symbols accurately in circuit diagrams. We're developing our use of scientific vocabulary when describing circuit symbols (Principle 6) and have used a range of resources to help deepen our learning such as a Circuit Memory Game and Circuit Symbol Dominoes, challenges and Discussion Drawings (Principle 4). Our next step is to try to keep the crocodile wires untangled when we become electrical repairers next week! 
Lily B: I used a push switch in my circuit to create a gap. I flipped around the cell connections, so my circuit then allowed the motor to spin in clockwise and anti-clockwise directions. 
Elizabeth: We managed to spin the motor both clockwise and anti-clockwise by switching the order of the wires on the battery. 
Alyx: The motor was able to spin my piece of paper around and by swapping my wires around, it went the other way! 
Leonie: We talked about how to use and draw symbols for a circuit correctly. I've been able to use a switch to control the power on and off. I made the circuit because I understood how to read a circuit diagram. Principle 4 gave me lots of different ways to learn.  
Whole School Project
Since returning on 6th September, all year groups have been immersed in a whole-school project.  From Nursery through to Year 5/6, the children have been reading and completing activities based on three books: "Errol's Garden", "The Secret Sky Garden" and "The Promise".  Each of these books is based on the natural world but had an underlying theme of mental health and well-being.  Hopefully, the children have shared their learning with you and have been talking about #GrowingOurFuture.
Zara: 'I love looking at the flowers in my garden.'
Leah: 'I grow vegetables with my grandad.'
Oliver: 'We can eat the fruit and vegetables we grow.'
Leo: 'I like carrots too!'
Mason D, 3/4C: "I really enjoyed working on The Promise when we created our Oak tree life cycle leaflets and I've also really enjoyed finding out about Queen Victoria this week."
Willow, 3/4M : "I liked The Promise because the person had an idea and then everybody listened and worked together to follow the idea. I enjoyed working as a team to think of our own garden."
Charlie, 3/4O: "I think that the acorns in our story are magic because they make trees where there weren't any before and it brings nature back to life."
Harry, 5/6R: "I think the idea of learning about the importance of the environment is a great idea. I really enjoyed having a walk around the field and looking at the trees."
Lola E-W, 5/6R: "I enjoyed going outside and collecting bits of nature like leaves and flowers."
Henry W, 5-6B: "We read the book called 'The Promise' and we wrote poems about the environment.  I think that we need to plant more trees and look after our local environment."
Elissa W, 5-6B:  "I liked 'The Promise' because it teaches us a life lesson that we should be looking after our planet. I liked that it showed you what our future could be like if we look after our local area."
Zach, 5/6D:  "It is important for us to plant more trees because they have a magical ability to regenerate, and they give us the oxygen we need to breathe. I am going to try and plant more at home. I enjoyed the book because it taught me that everyone needs to work together."
Summer, 5/6D:  "I liked The Promise because it started with the girl feeling hopeless and the city was mean and hard and ugly, but it ended up with lots of colour and left me feeling hopeful instead. I am going to talk to adults about what they can do to help stop pollution in the environment."
Macmillan Coffee Morning
Thank you to everybody who made a donation to this wonderful charity today.  It was great to see so many children and staff taking part for such a worthy cause.  We will let you know the total amount raised very soon.  Thank you again for your support.
Forthcoming events
'Proud to Be' Day Friday 15th October
As a school we have decided to join in with this year's Black History Month campaign 'Proud to Be'.  We feel that it is important we get involved in this, especially given recent issues relating to George Floyd/Black Lives Matter and the online racism seen after the England Euro's final.  The theme this year is aimed at celebrating children's differences, whether that be appearances, cultures, or beliefs etc. and raising awareness of the contribution and achievements of those with African or Caribbean heritage.
Therefore, on Friday 15th October we will have a 'Proud to Be' day in school. Children will be able to wear their own clothes on that day, as a way to express their individuality. Throughout the day children will have opportunities to share stories from different black cultures and focus upon the lives and achievements of a famous black figure, as well as taking part in various other fun activities! 
Monster Mash Fun - Thursday 21st October 2021
We would like to invite your child to a 'Monster Mash Disco' on Thursday 21st October 2021, Year One to Year 6 only, from 4.30pm to 6.00pm.
We will be having a Monster/ghouls/witch/wizard/ghost/pumpkin etc. themed fancy dress evening. Children can have their faces made up but ask that children do not bring accessories with their costumes please.  Children can also come in their own clothes, if they prefer.
There will be a DJ, as well as dancing and party games; a drink and a treat will be provided too. To try and keep the children safe, we will ensure that the hall is well ventilated and we will be restricting the number of pupils in the hall at any one time.  Therefore, we will separate the disco session into two slots:
Yr 1 and Yr 2 - 4.30pm - 5.15pm. Then back in classes, children will partake with more fun, games and activities.
Year 3/4 and Yr 5/6 5.15pm - 6.00pm. Prior to the disco, children will have games and activities in classes.
The cost of the event to include the DJ, provide treats and prizes for the children will be £4.00. Children should be collected from their usual exit gates at 6.00pm prompt.  Please be patient, as the process may take a little longer in the dark. If you have more than one child, please collect the eldest sibling first, as they leave more swiftly than younger children.  All children should be collected we will not allow children to walk home unattended.
We hope that you will support this fun event and support our reasons for the different time slots for the disco. It will be a nice end to the children's first half term!
If you would like to support this event, please complete the online form titled 'Monster Mash' and send the money into school with your child in a named envelope from tomorrow please. Children will be issued with a ticket that they will need to show on entry to the event.
You will not be able to purchase tickets at the event. If you have further questions, please write in your child's planner.
Morrison's - It's Good to Grow Campaign
Morrisons has launched their "It's Good To Grow" campaign in all of its stores in hope of educating children about where their food comes from. The aim is to make school children more aware of the journey of food from field to fork, and to encourage healthy eating. 
For every £10 spent in store or online you will receive a grow token to help our school get a range of gardening equipment. You can download the "My Morrisons" app using the App Store to start collecting your tokens which you can then donate to our school by selecting our school name when you register. 
We believe it is really important for children to engage with nature and develop the skills to grow healthy food for themselves. This campaign is a great way of showing children where food comes from and the importance of making healthy choices. Your support would be much appreciated. For more information please visit the "My Morrisons" App. 
So far, people who have signed up to the scheme have collected 254 tokens for our school. Thank you so much! The tokens will then be swapped for free gardening equipment which we can then use in our garden area. Please keep collecting, we really do appreciate your support!
 Harvest Monday 4th October 2021 until Monday 18th October 2021
In the weeks leading up to half term, we will be celebrating Harvest.
This year we have decided again to help the Black Country Foodbank who collect items to feed families in crisis in our community. Black Country Foodbank helps vulnerable individuals and families in crisis through the provision of 3 days emergency food supplies while a longer-term solution is developed. The services we provide have an enormous impact on the people who use them, giving them an important breathing space at a time of great need.
The Foodbank would like to collect a range of items so that they don't have an abundance of some items and a shortfall of others. So, we are going to ask each class to donate particular items, so that we should manage to collect a selection across the school. We will be launching the appeal in classroom assemblies next week, but thought you may like advance warning so that perhaps you can add an extra item into your shopping. Please make sure that the foods are "in date", i.e. within their 'best before' dates as the Foodbank can't give away food that is past its best-before date and we don't want to waste any donations.
In these uncertain times, many parents are turning to Food banks for help.  I know that they will greatly appreciate your donations.
If you feel able to support this appeal, then please bring the item asked from your child's class on the list below, anytime from Monday 4th October 2021 until Monday 18th October 2021 to the main Reception foyer and leave the items in the conservatory. 
Nursery - Any items from the lists below.
Year R  - Miss Cleeton - Tinned meat or fish
Year R - Miss Postings - Carton of U.H.T.(long life) milk
Year 1 - Mrs Cartwright - Tinned Potatoes, tinned Vegetables
Year 1 - Miss Jordan - Tinned fruit, cartons of orange juice
Year 2 - Mr Wade - Hot chocolate, small jars of coffee, tea
Year 2 - Miss Barclay - Sugar, biscuits
Year 3/4 - Mrs Oliver -Soup, (tinned/carton/packet), instant noodles
Year 3/4 - Mrs Cameron - Rice, dried pasta, couscous
Year 3/4 - Mrs Morton - fruit squash/cordial
Year 5/6 - Mr Baker Cereal (preferably non sugared)
Year 5/6 - Mr Raybould Toiletries (soap, shower gel shampoo, baby toiletries, wipes  etc)
Year 5/6 - Miss Dorricott Any of the items above.
Support for the Mental Health and well-being of children and young people, and of parents
Did you know Dudley MBC have PRE-PAID for every parent and carer in Dudley to access a range of courses for parents/carers (access now for life-long access)?
There are courses for parents, carers and grandparents about children from bump to 19+ years, from the Solihull Approach (NHS).
Access code:  CASTLE
Understanding your pregnancy, birth, labour and your baby
Understanding your baby
Understanding your child (0-19+ yrs, main course)
Understanding your child with additional needs (0-19+ yrs, main course)
Understanding your child's feelings (taster course)
Understanding your child's brain (short course)
Understanding your brain (for teenagers only!)
Understanding your child's mental health and wellbeing (accompanies UYC and UYCAD)
Reminders
Hairstyles:
A reminder that it is not suitable for children to come to school with shaven heads, tramlines or coloured hair.  Please remind your children of the rules. Children who have long hair must tie it up.
Secondary Transfer
Many of our Year 6 children and their parents are busy trying to decide on a local secondary school to help them complete their application forms.  As we know because of Coronavirus many schools are offering virtual tours.  Please contact the local secondary school or check their website for more information.
Can I remind parents that, if you live in Dudley Borough, the closing date for applications this year is 31st October 2021 (during the half term holiday). It is really important that this deadline is met; failure to do so will jeopardise your preferences for your child.  Please click on the link below for more information.
https://www.dudley.gov.uk/residents/learning-and-school/school-information/school-admissions/
Primary Reception Intake
In Dudley children start primary school the September after their 4th birthday. The law states all children must start school by the beginning of the term after their 5th birthday.  
Please click on the link below for more information on how to apply:
https://www.dudley.gov.uk/residents/learning-and-school/school-information/school-admissions/primary-reception-intake/
Important dates for Reception Intake 2022
Online application available - 1 October 2021
Return date for paper application forms - 15 January 2022 by 5pm*
Return date for online applications - 15 January 2022 by midnight*
Decision emails to parents - 19 April 2022 after 2pm
Decision letters to parents - 19 April 2022 by 2nd class post
Appeals to be heard - June/July 2022
* Failure to return your form/apply by this date may affect the outcome of your application.
Attendance at a nursery attached to a primary school will not guarantee admission to that particular primary school or give any advantage to the pupil in the admissions process.
 Forthcoming dates
Friday 1st October - Year 1 Apple Day - children in Year 1 only can wear their own clothes - see email sent
W/C Monday 4th October - Bikeability - KS2 only - see email sent for your child's class - refer to planner
Friday 15th October - Yr 5/6B Class Assembly - Link will be sent to parents who have consented for their child to take part
Friday 15th October - Black History Month 'Proud to Be' Day - children can wear their own clothes.  See Newsletter above
Thursday 21st October - TTRS Dress Up Day for those eligible - see planner nearer the date
Thursday 21st October 4.30pm - 6.00pm - Monster Mash - Yr 1 - Yr 6 Only
Thursday 21st October - break for half term
Friday 22nd October - INSET Day - school closed to children
Monday 1st November - School reopens for all pupils at the usual time.
Have a lovely weekend.
Mrs Miller and Miss Stanton