Friday 11th February Newsletter
Article 31
Every child has the right to rest and leisure and to engage in play and recreational activities.
Reception – Chinese New Year
Last week in Reception, the children were learning about Chinese New Year and discussed how the festival is celebrated. They explored the country of China and compared the differences to where they live in the UK. They learned about the Chinese Story in Literacy, created their own Dragon Dances in PE, and enjoyed trying some Chinese food together. The children had lots of fun and really enjoyed celebrating Chinese New Year together!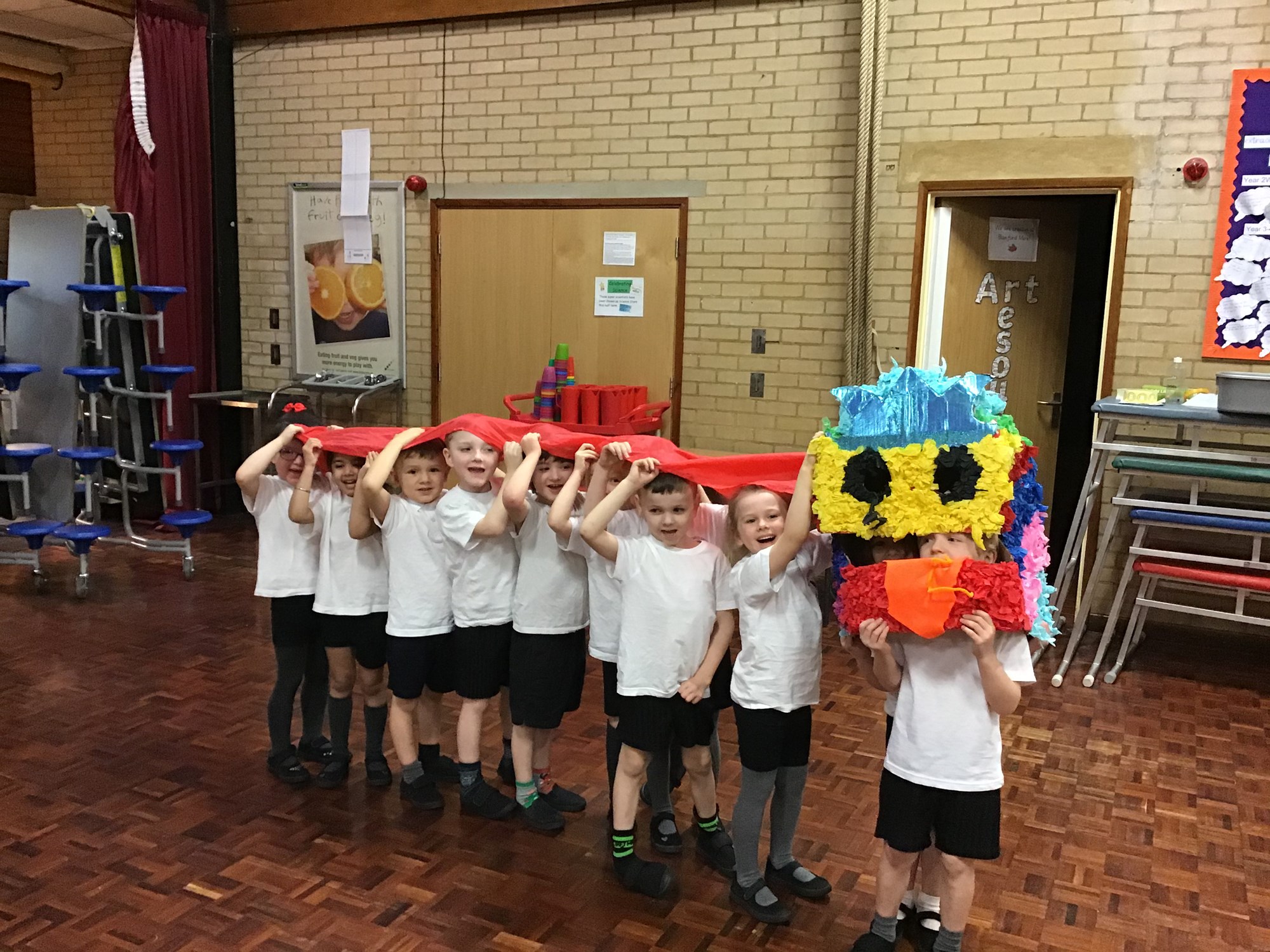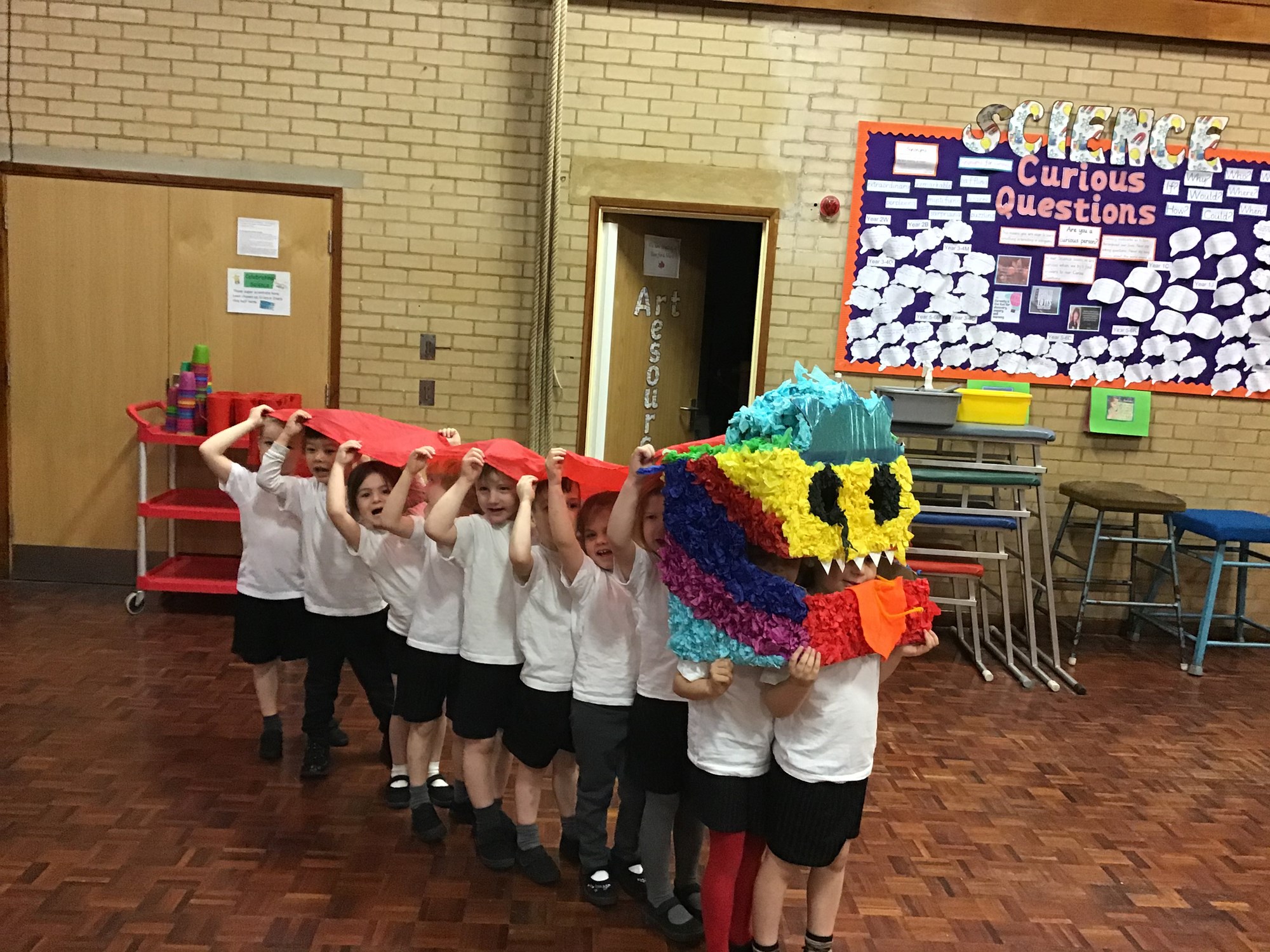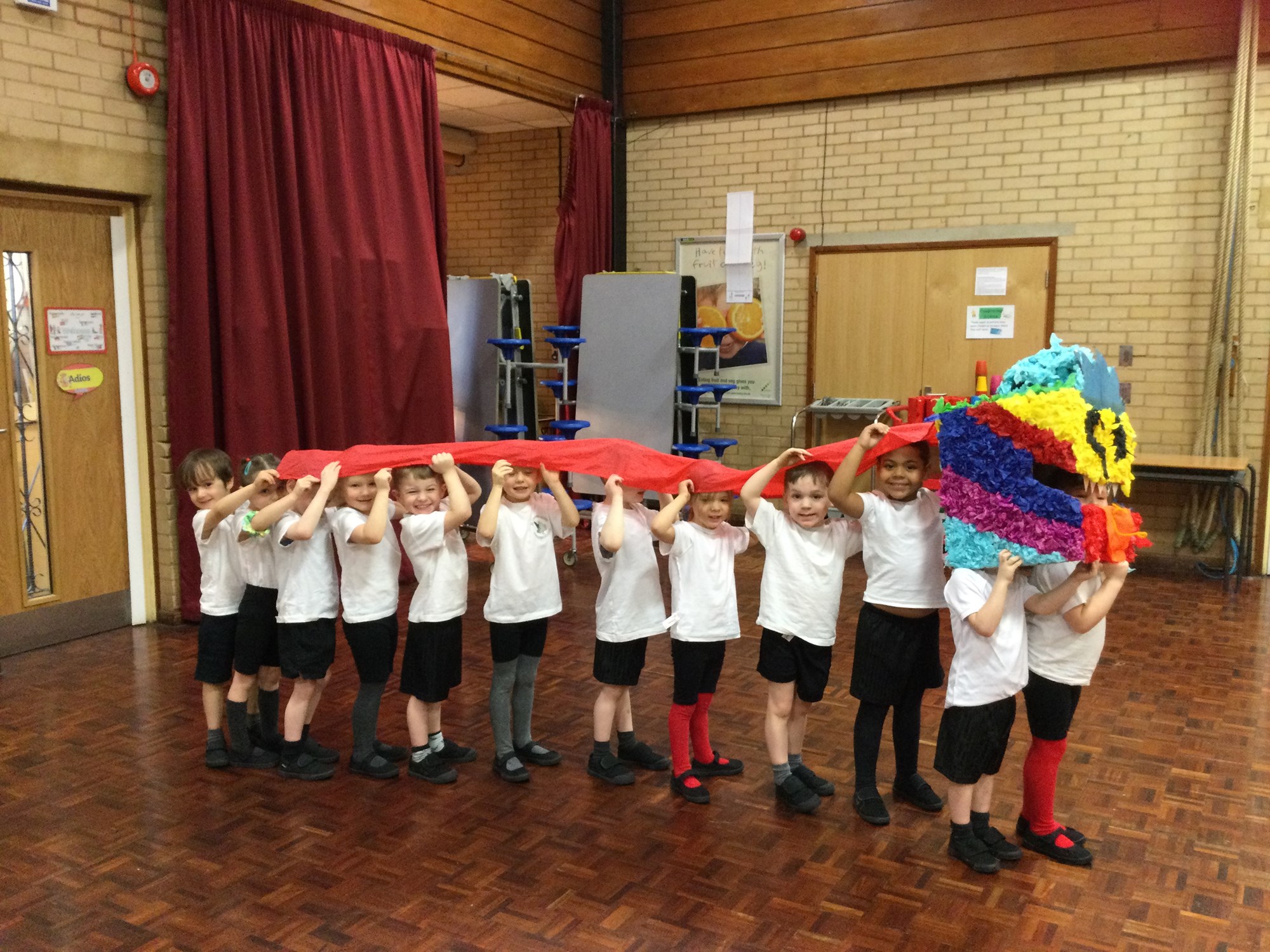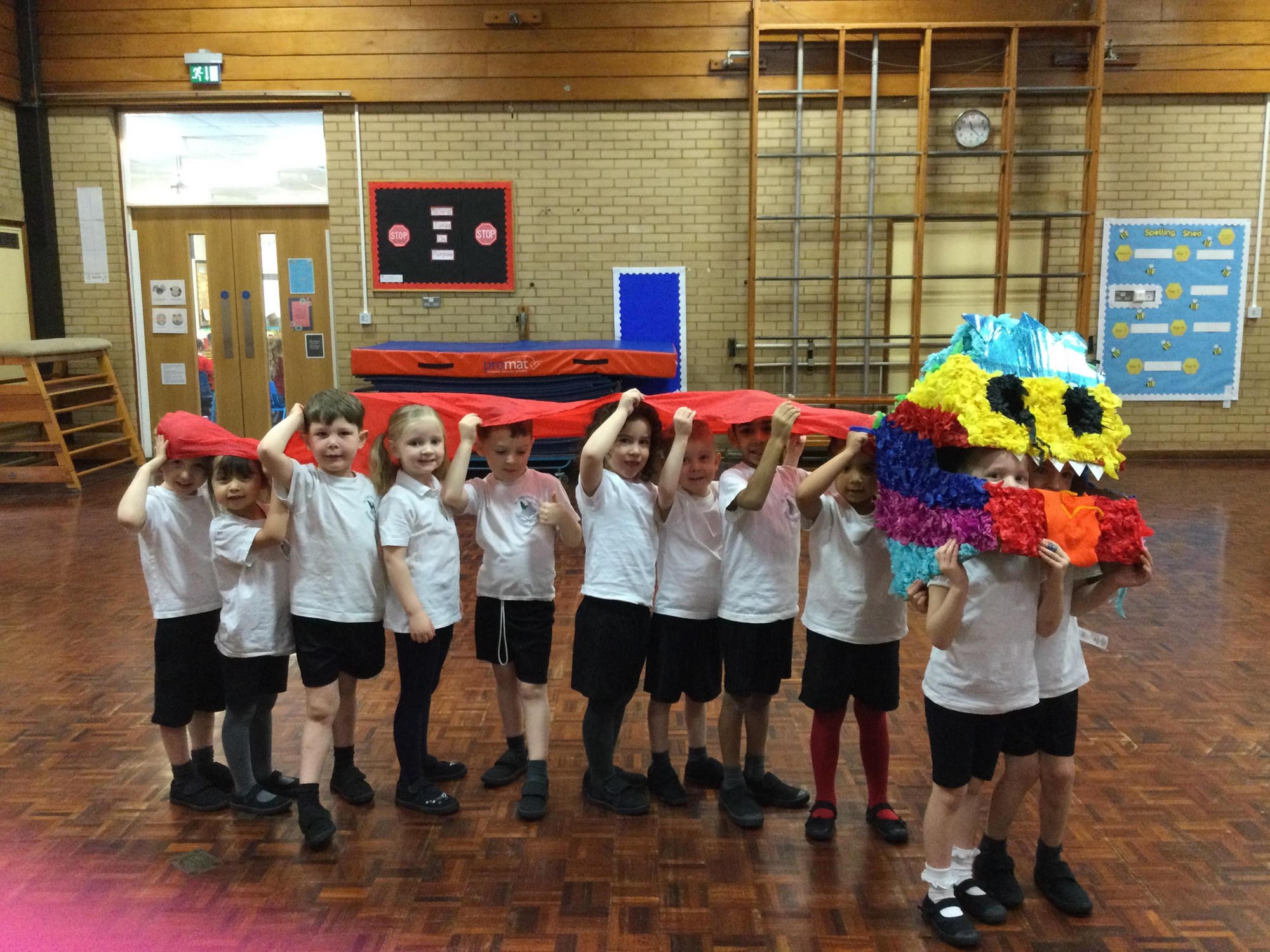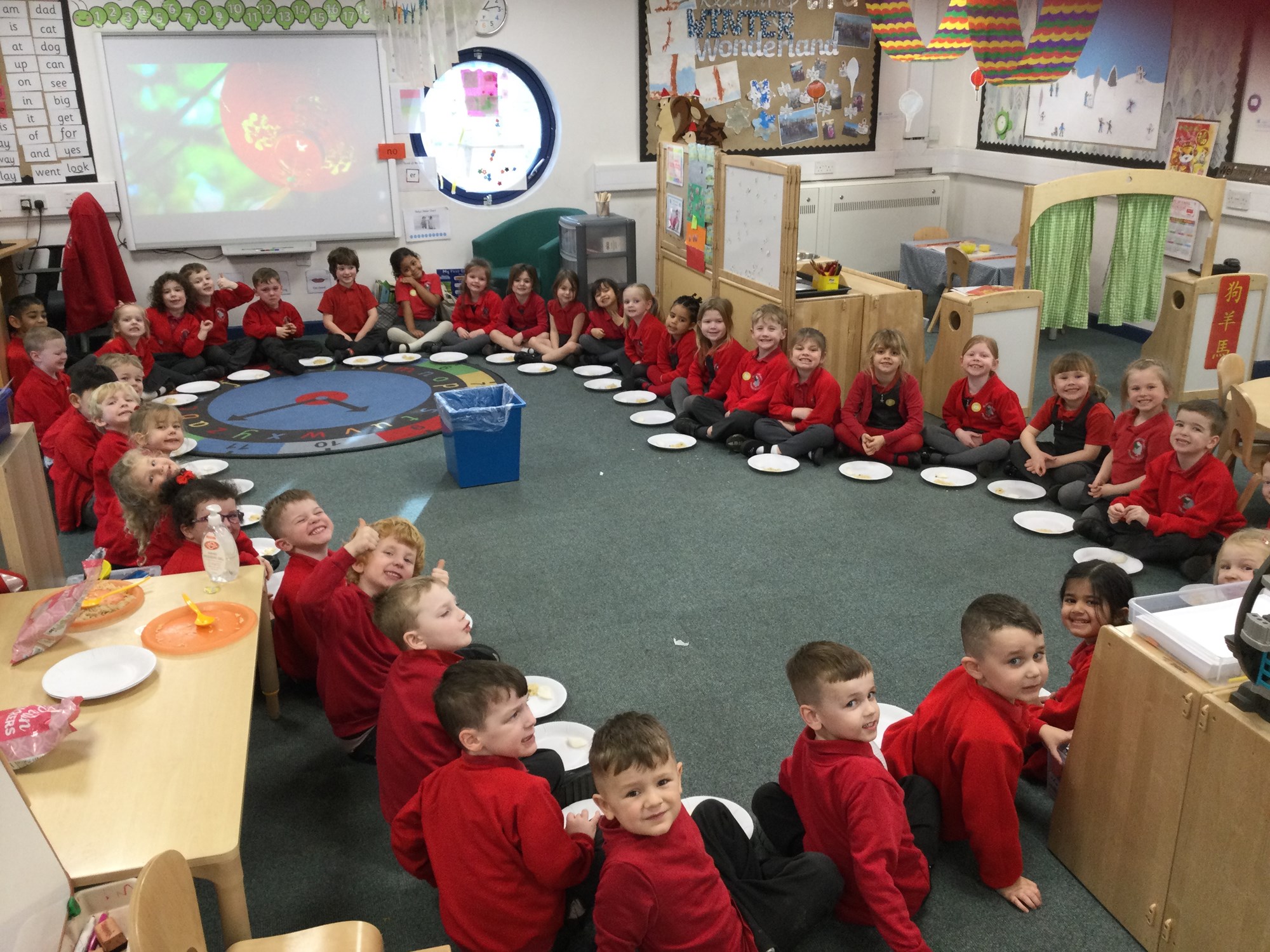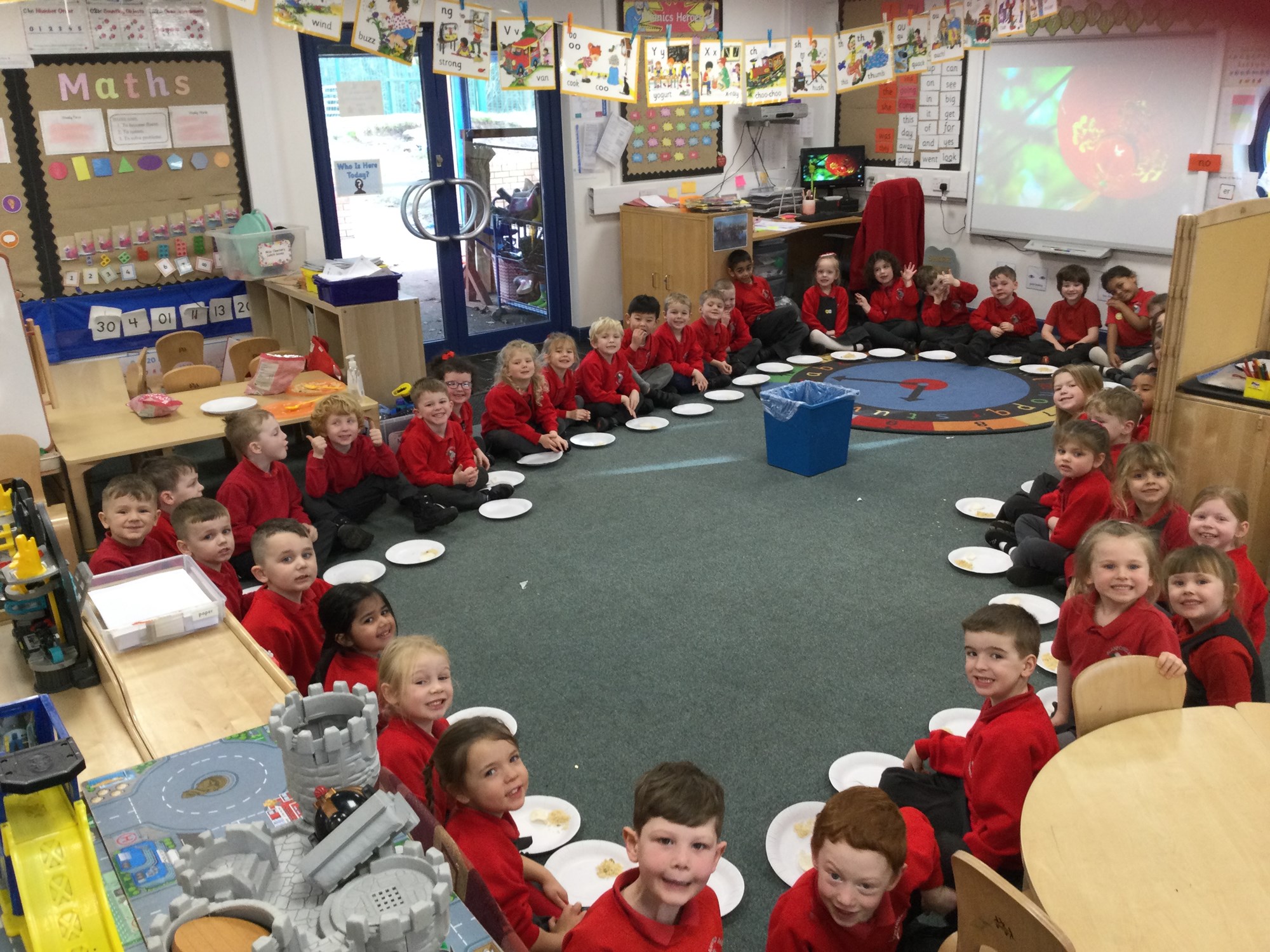 Black Country Living Museum
On a cold but sunny Friday, Year 5-6 had a great time visiting the Black Country Living Museum. They saw a mining show with experiments that replicated the effects of fire-damp and choke-damp, steel chains being made and even experienced a narrow boat ride through the Dudley Tunnels. It was a brilliant trip which brought to life our classroom learning, demonstrating to the children what a rich and fantastic heritage we have in our local area.
Alyx 5/6B: "I liked the gas show and how she set her arm on fire!"
Sienna 5/6R: "I enjoyed going to see the toys that the children played with in the industrial revolution. I also enjoyed the canal ride and seeing the caves created by mining."
Lily-May P. 5/6D: "I enjoyed the mine show and going in the different shops to see what they were like. My favourite bit was the canal ride and being able to have a go at legging!"
Yorkshire Bank
Yorkshire Building Society Visit Year 5-6. On Tuesday 8th February, Yorkshire Building Society came in to deliver a lesson on financial education. The children worked in groups to plan a Valentine's Party. They had to use a budget, calculate fixed and variable costs and then work out the profit made. A great afternoon was had by all involved. Thank you to YBS and to Heidi and Hannah who delivered the session. All being well, they will be returning later this term to deliver lessons for other year groups.
Lacie W: "I learnt how to calculate the cost of a party and make it fun. My team won the competition by making the best presentation for a Valentine's Party."
Dexter: "I learnt a lot of things - like what a budget is and what breakeven means. I used my maths skills to calculate with money. It was very fun!"
Mylo: "I enjoyed organising a Valentine's party, designing a poster and working well as a team to make sure we didn't overspend on food, drink and activities!"
Xavi: "It is important to spend money wisely if you want to make a high profit."
Children's Mental Health Week 2022 Pupil Voice
The children have had a super week exploring mental wellbeing and learning about what good mental health looks like. This has included looking at a range of feelings and emotions and ways that we can deal with these. Thank you to those parents and carers who have spent time discussing this with their children. Remember there are ideas on the newsletter which was sent out last week, so that you can support your children at home too.
RP
Jessie: It is important to keep our minds healthy too.
Archie: We should talk about our feelings.
RC
Orla: It is okay to be sad.
Grayson: It is good for your mind to be healthy.
Year 1C
Jacob: We have been reading 'The Colour Monster'. The green one was calm, the blue one was sad, the red one was anger, the yellow one was happy, the pink one was loved and the black one was fear.
Ekhum: We should feel positive, try new things and enjoy life.
Year 1J
Bonnie: Family makes us happy.
Arlo: My sister and my mom support me when I am sad.
Year 2
In Year 2 we have been really enjoying Children's Mental Health Week. Every morning the children have been completing a daily booklet that contains positive thoughts, famous quotes, and mindfulness tasks.Their favourite quote so far has been the following quote from Dr Seuss - 'Be who you are and say what you feel, because those who mind don't matter, and those who matter don't mind.' In one of their afternoon sessions, they worked together using dictionaries to create an acrostic poem. As the theme for this year is 'Growing Together', they created an acrostic poem for the word 'growing'. The children found words that linked to the topic of mental health and enjoyed selecting their own to create a poem.
Year 2B
Balraj: Children's Mental Health Week is all about looking after your brain. This morning I thought about my favourite memory. It's good to think good thoughts.
Maddison: Children's Mental Health Week is about our thoughts and feelings. There lots of different feelings like sad, happy, worried, angry, excited, and cheerful. All feelings are ok!
Year 2W
Eleanor: Every morning we have been doing some mindfulness colouring and a happy activity.
Charlie: Children's Mental Health Week is all about keeping children healthy. Everyone needs to look after their body and their brain.
Year 3/4C
Annabelle: I enjoyed making the emotional growth wall because it showed me how much I had learned and improved and this made me feel good about myself.
Darcey: I liked doing our Wellbeing Wells because it reminded of ways to feel better if I'm feeling sad.
Year 3/4O
Heather P: I set myself a goal and I'm going to work hard and try everything I can to reach my goal and to get what I want to achieve. This week has taught me to never let worries scare me and to tell people how I'm feeling.
Ava C: This week has been good. I've learnt new stuff about being kind to myself as well as others. I enjoyed the activity where I looked back on how I've grown and looked forward to how I could grow.
Year 3/4M
Frankie R: I liked the past and future activity because I got to think about what has happened in the past and what might happen in the future. It was really fun.
Maisie S: We made a class wall of bricks that shows how we have changed since September. I have made new friends which has made me happy.
Year 5/6R
Ruby: I thought the mental health work we did was helpful because you learnt about how people felt on the inside and how serious emotions can be.
Riley: I thought that it was important to know that we all have different moods and emotions and that they can be put onto a continuum. I enjoyed drawing the emojis to represent different emotions.
Year 5/6D
Laila-Mai: We created a wheel of emotions to help us understand that we all have different feelings and show them at different times.
William: You should always be kind to everyone because you can't always tell whether someone has good or bad mental health. It is important to talk to someone you can trust if you feel alone.
Year 5/6B
Isabel: I've learnt that it is important to keep your mental health in the right place and to keep active!

Jack S: I think it is important to learn about mental health and that you should try and make sure you stay healthy mentally.
TTRS NSPCC Rocks Competition
Well done to everyone who took part in the TTRS NSPCC Rocks Competition last week. Our top 3 children in the whole school were:
Krishna (Y5), Mason (Y4) and Joseph (Y3).
Although our school didn't win one of the national prizes, it was great to see our pupils learning their times tables for a good cause.
Mr Baker
Commonwealth Games Mascot Visit
On Thursday, the children at Blanford Mere were visited by Perry, who is the Birmingham 2022 Commonwealth Games Mascot. We were one of the lucky schools to be chosen for this opportunity from hundred across the country.
Perry is named after Perry Barr, the area of Birmingham where the Alexander Stadium will host the Games' opening and closing ceremonies and athletics events. He is a bull covered with multicoloured hexagons which represent the coming together of the Commonwealth in equal partnership with the diverse communities of Birmingham and the West Midlands. Hexagons are also the strongest shape – strong like the Commonwealth Games family.
Year 5/6 took part in an assembly hosted by Perry and a Commonwealth Games representative where they were told lots of information about the games. Perry also walked around the school to greet all the other children in school. They also watched a video in class introducing him and telling them about the games.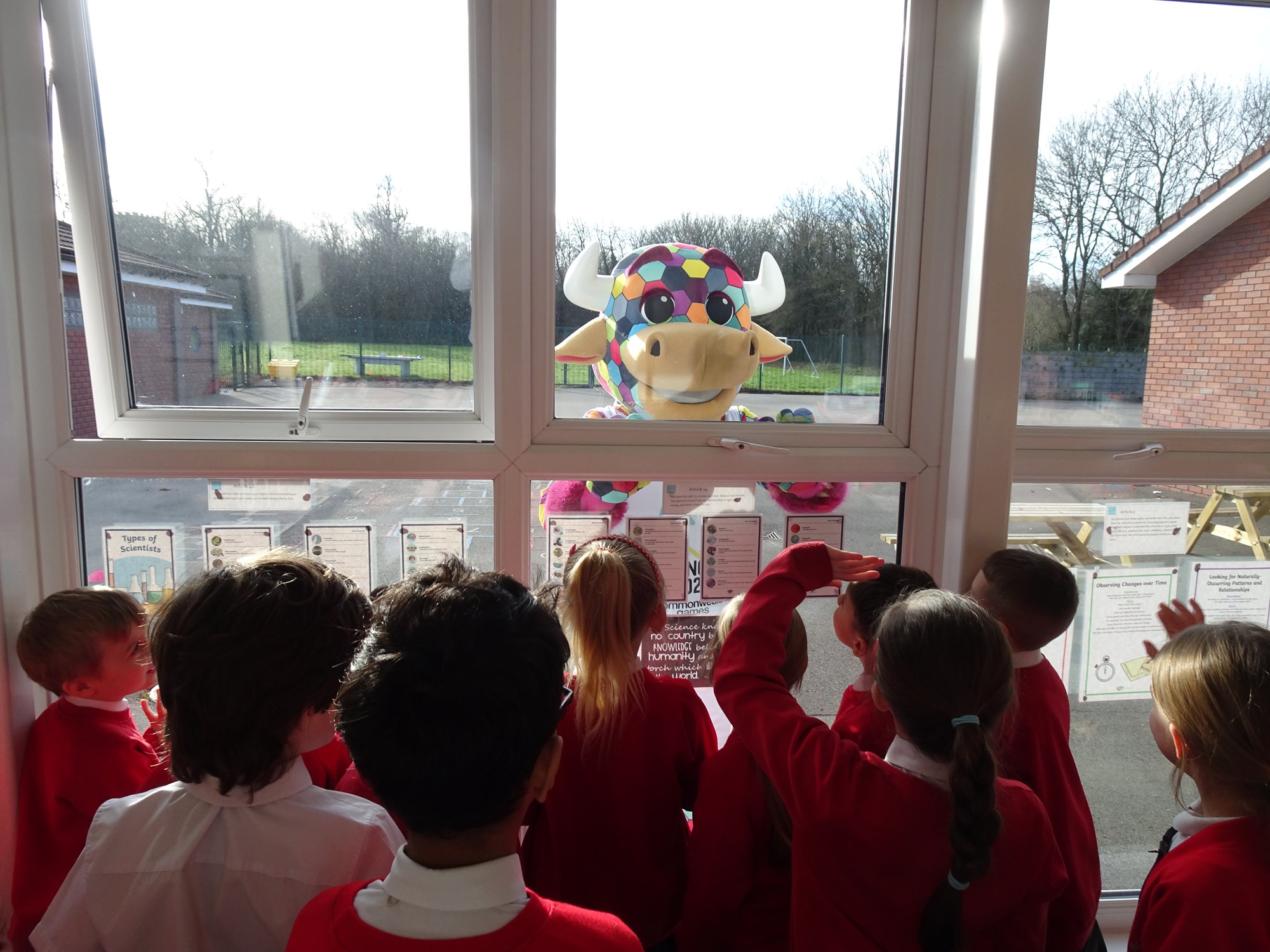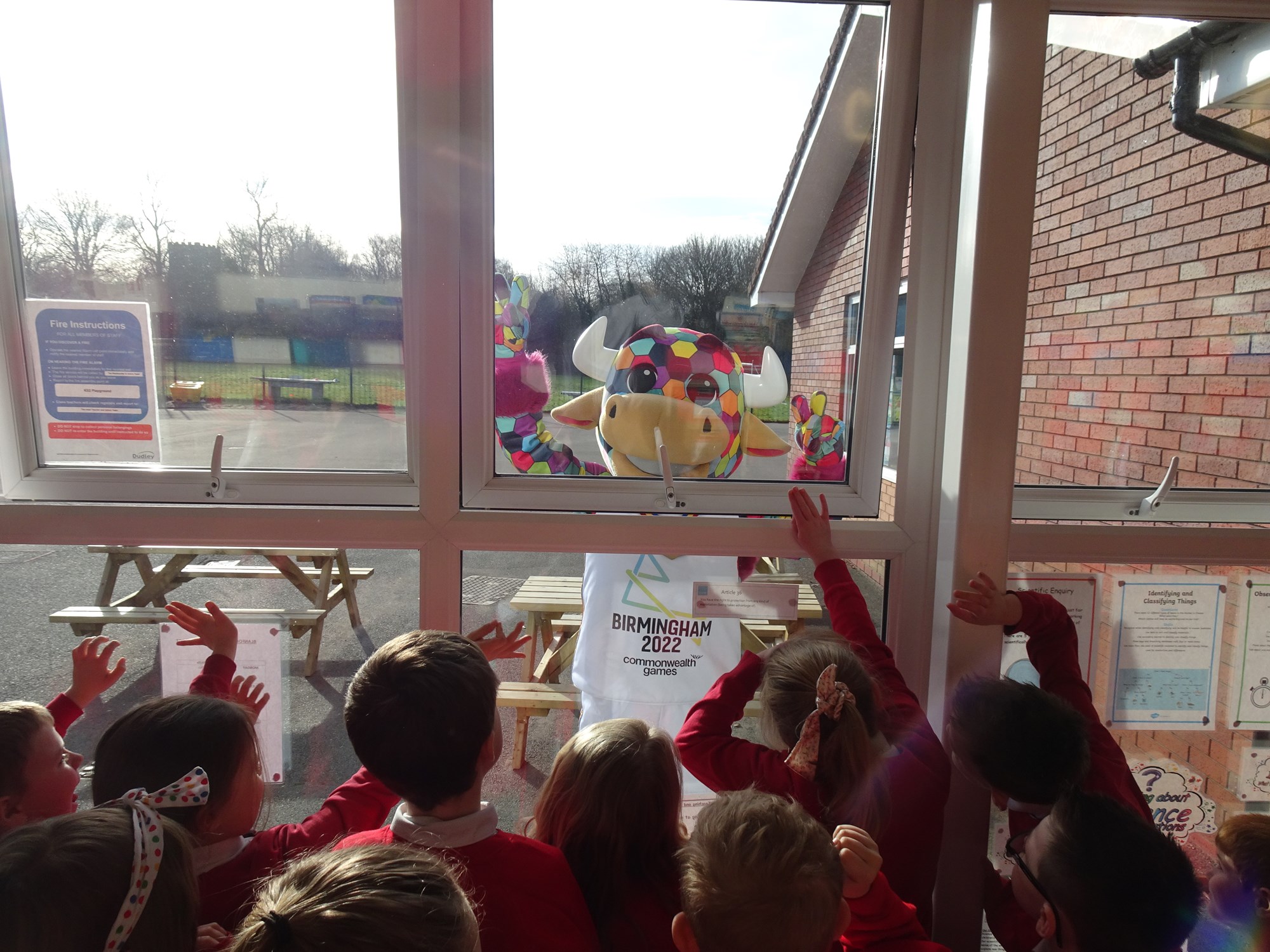 Internet Safety Week
Safer Internet Day is celebrated globally in February each year to promote the safe and positive use of digital technology for children and young people, and to inspire a national conversation about using technology responsibly, respectfully, critically, and creatively. Safer Internet Day 2022 was on 8th February and was celebrated with the theme 'All fun and games? Exploring respect and relationships online'. Coordinated in the UK by the UK Safer Internet Centre, Safer Internet Day is celebrated in over a hundred countries coordinated by the joint Insafe/INHOPE network, with the support of the European Commission, and national Safer Internet Centres across Europe
The below websites will help you to do all of the above and know how to deal with things if they go wrong!
https://www.thinkuknow.co.uk/parents/
https://www.internetmatters.org/
Keeping Children Safe in School
A reminder that we are a 'nut free' school. We have a number of children in school who have nut allergies and could become extremely ill if they come into contact with nuts. We ask parents to check that any items sent into school in lunchboxes do not contain nuts. This includes Nutella, Snickers bars etc. We appreciate your support with this so that we can keep everyone safe.
School Meals
The cost of a school meal is usually reviewed in April each year. We have received notification from Dolce that the cost of a school meal will rise from 25th April 2022 (start of the summer term) from £2.20 to £2.28.
In their letter to us, Dolce have made it very clear that raising their prices at this time is the last thing they want to do, however, with the rising costs of food currently they are at the point where they have no choice. Dolce are very aware of the financial pressures facing both parents and schools in these difficult times and were able to avoid a price increase last year. They have kept the increase as low as possible and this still represents good value for a main meal and pudding.
Parent Consultations
Thank you to all parents who signed up for the parent consultations this week. Teachers are contacting all parents to discuss their child's progress. Teachers have enjoyed their conversations with parents this week and staff have really appreciated parents who have commented positively about school organisation, communication and the quality of the learning provided.
Pen Licences
Pen licences have been awarded to Lacie T, Isabella and Alexandra from Year 5/6D. Well done for your continued effort!
Future dates
Friday 18th February - INSET day school closed to all pupils
Monday 21st February - Friday 25th February - Half term break
Monday 28th February - school re-opens at the usual time.
Thursday 3rd March - World Book Day World Book Day celebrations!
On Thursday 3rd March, we will be celebrating World Book Day. On this day, the children may come dressed in their pyjamas to reflect the idea of a bed time story. World Book Day tokens will be given out in school on Thursday 17th February. These can be used to purchase a £1 book for free, or used to get £1 off a book of your choice. Full details can be found here; https://www.worldbookday.com/books/. Please spend some time discussing with your child which book they would most enjoy.
To celebrate reading, on Thursday 3rd March, we would like everyone to bring in the book that they have purchased with their £1 token, as well as dressing in their pyjamas. Activities across this day in school will be based around the books that children bring in, and the stories they enjoy in class.
In the words of Walt Disney;  "There is more treasure in books than in all the pirate's loot on Treasure Island."
Friday 18th March - Red Nose Day - wear anything red and donate £1 - no red noses will be sold in school.  Unfortunately, due to Covid we ask that children do not bring a red nose into school this day for health and safety reasons.  However, you may wish use 'face paint' to paint your child's nose!
Wednesday 23rd March - Friday 25th March - Year 6 Residential trip to Condover Hall.
Thursday 7th April - TTRS dress up Day
Friday 8th April - school closes at the usual time for Easter break
Monday 25th April - Return to school - Summer uniform can be worn from today
W/C Tuesday 3rd May - KS1 SATs begins
W/C Monday 9th May - Year 6 SATs week
Thursday 26th May - School closes to pupils for half term
Friday 27th May - INSET day - school closed to pupils
W/C Monday 6th June - Year 4 Multiplication Timestables Check begin
W/C Monday 6th June - Year 1 Phonic Screen Checks begin and Year 2 recheck
Thursday 21st July - School closes for the Summer break
Thank you for your continued support, have a lovely weekend.
Mrs Miller and Miss Stanton