Article 5
Your family has the responsibility to help you learn and exercise your rights, and to ensure that your rights are protected
Well, we are at the end of yet another busy term! The children have had a lot of learning opportunities over the spring term.
Easter Chicks – Reception
'We have had some egg-citing news in Reception! Ten eggs arrived in Reception on Monday morning. The first chick hatched on Wednesday afternoon which all the children were able to witness. This was shortly followed by chick number two and three. By Thursday morning, we had seven chicks! The children have been amazed by this experience and are looking forward to caring for the chicks.'
We know that parents have heard all about the chicks from their children and have shared our eggcitement!! Hope you enjoy seeing some of our photos!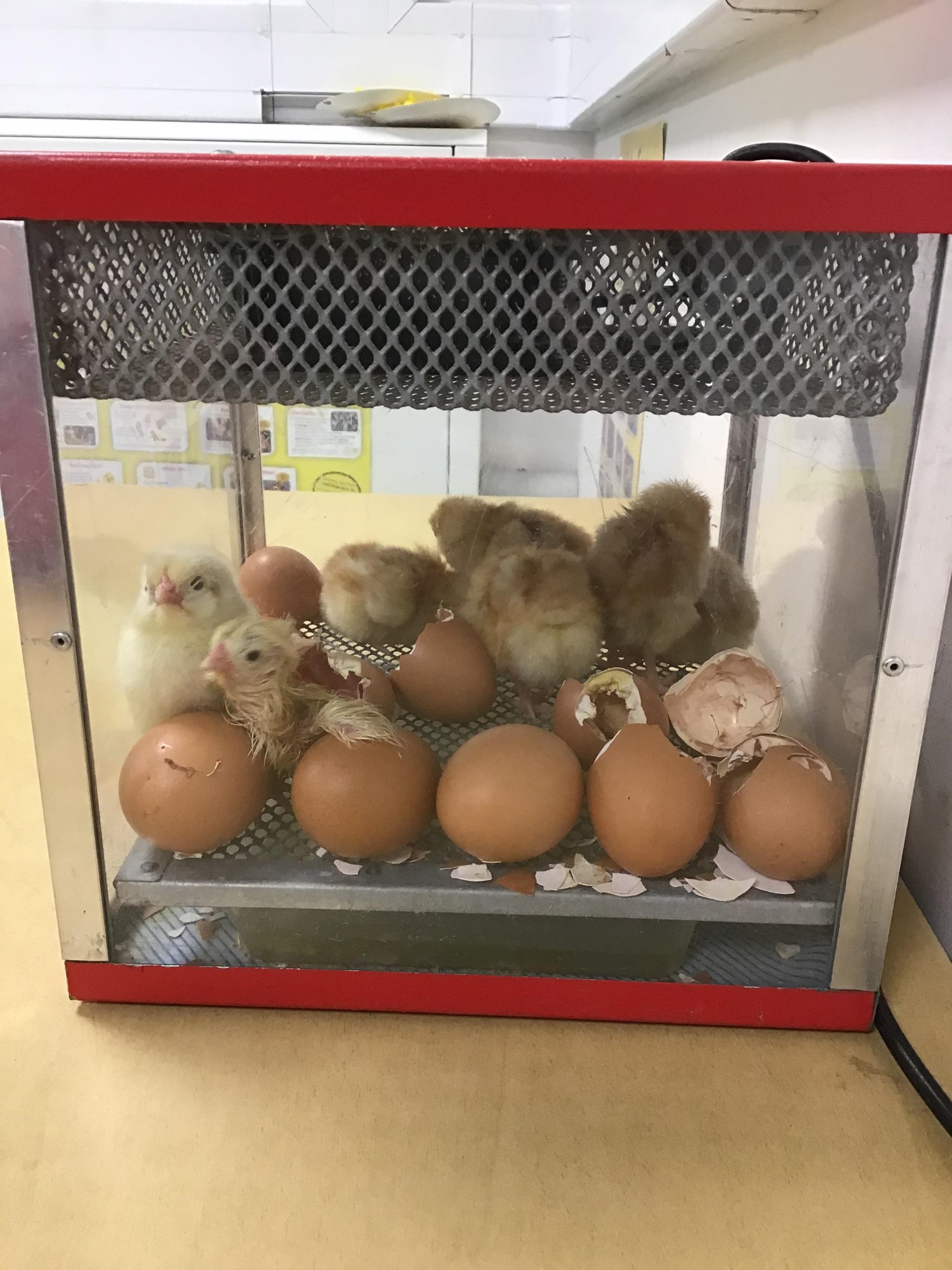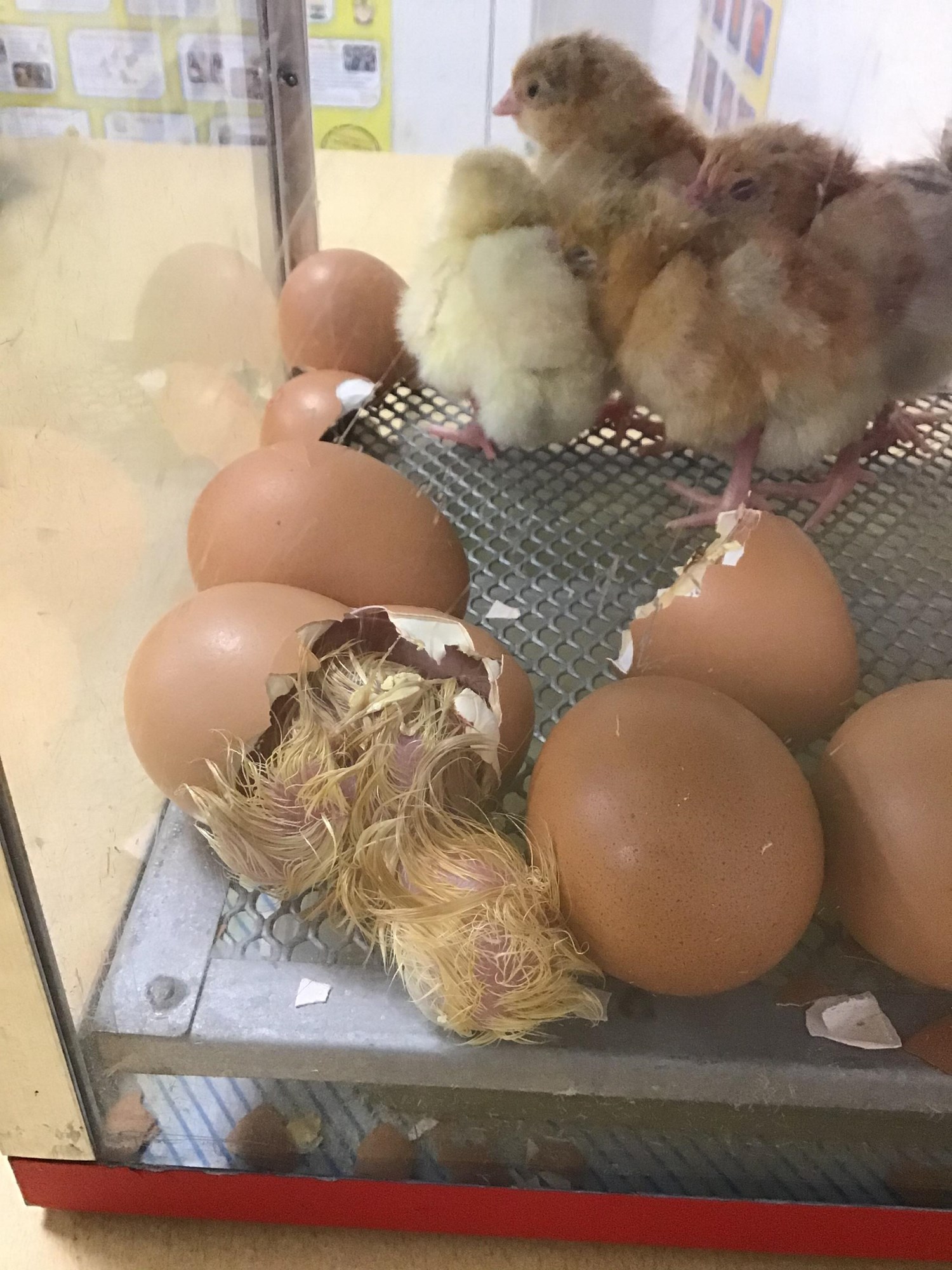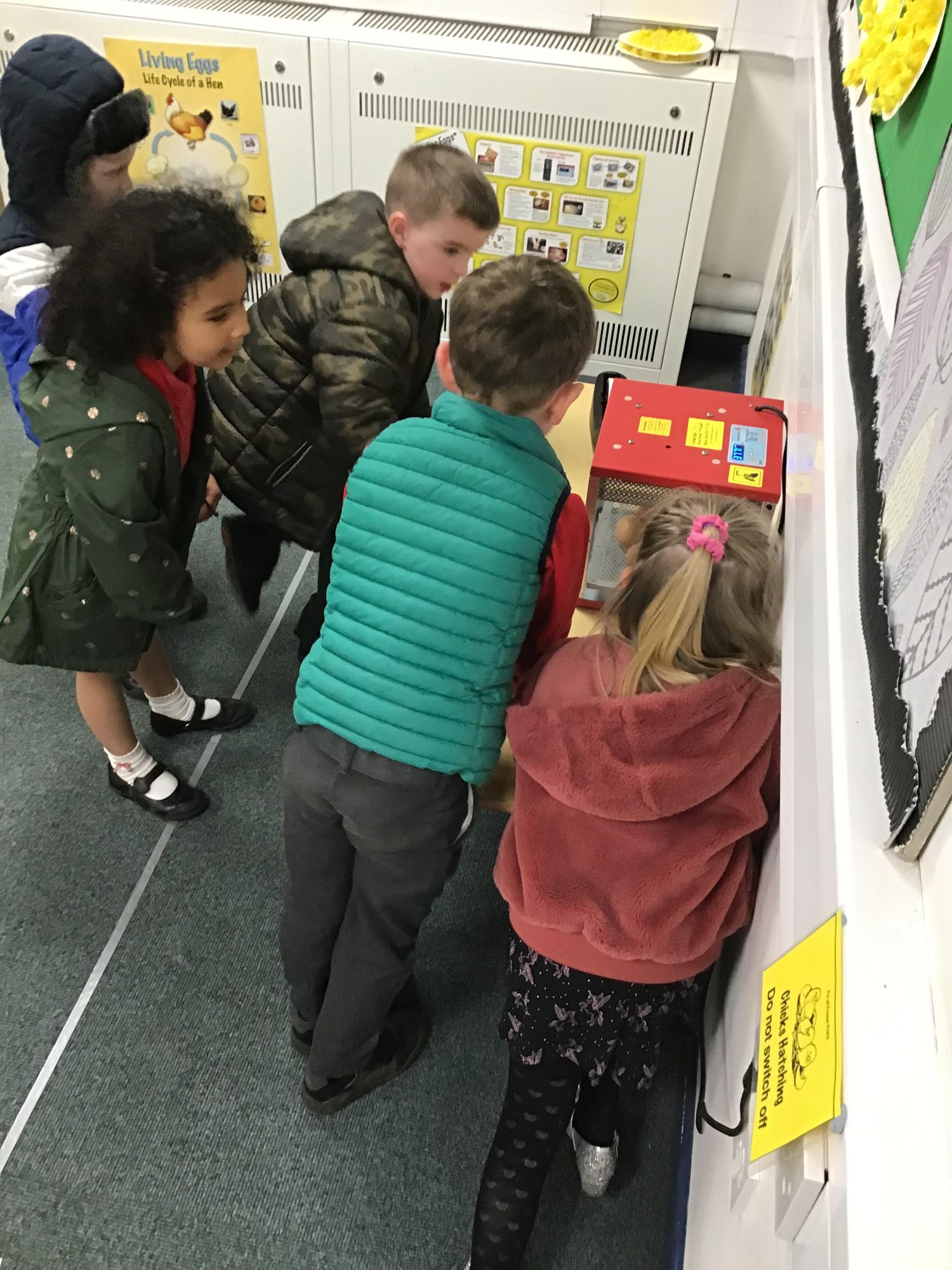 Katie Morag Day Year 1
Thank you so much for your support in organising your child for our 'Katie Morag Day' in Year 1 on Monday. The children looked super!
Our day began with a story about Katie Morag and her Tiresome Ted, followed by an imaginary boat trip on the 'Lady of the Isles' to the Isle of Struay. Once there, they embarked and entered the village school. During our stay on the island, the children baked Scottish shortbread, learnt highland Scottish dancing, created a collaborative map of Struay, visited the island's Post Office and Shop, created a collage of Tiresome Ted representing his feelings, used watercolours to paint landscapes of the island, made a tartan kilt for Katie Morag and written a postcard home!
Phew! What a busy, but fun day we have had.
Here's what some of the children had to say...
Bethany-Rose: It was so fun dressing up! I liked doing lots of activities.
Sidney: I enjoyed reading the Katie Morag books and painting the Isle of Struay.
Bonnie: I liked making the Scottish shortbread.
Louie: I liked being the shopkeeper and acting out the story.
Thanking you again for your continued support to ensure our children achieve their full potential.
Article 29: Every child has the right to develop their talents and abilities.
Mrs. Cartwright, Miss. Jordan and Miss. Lewis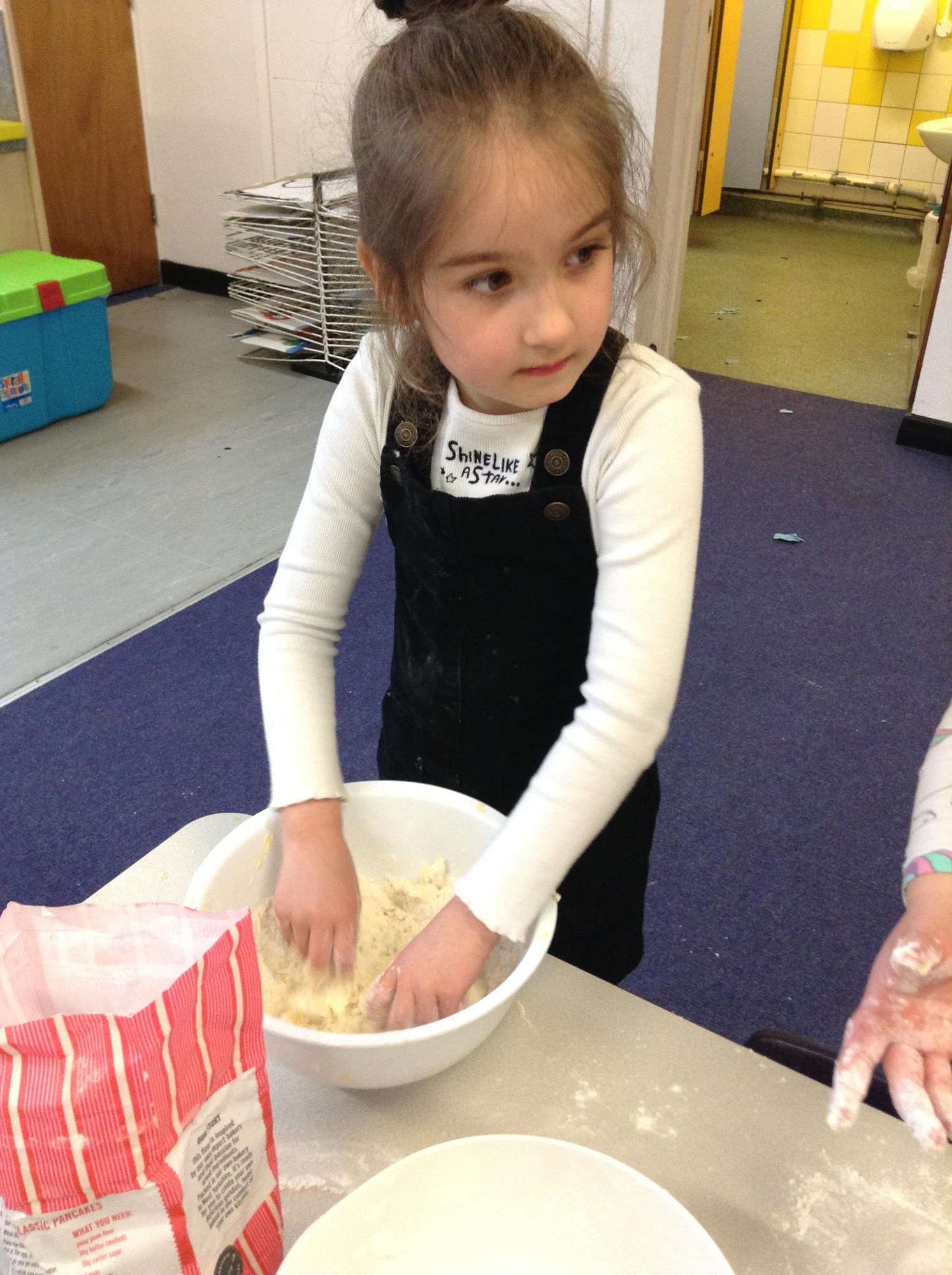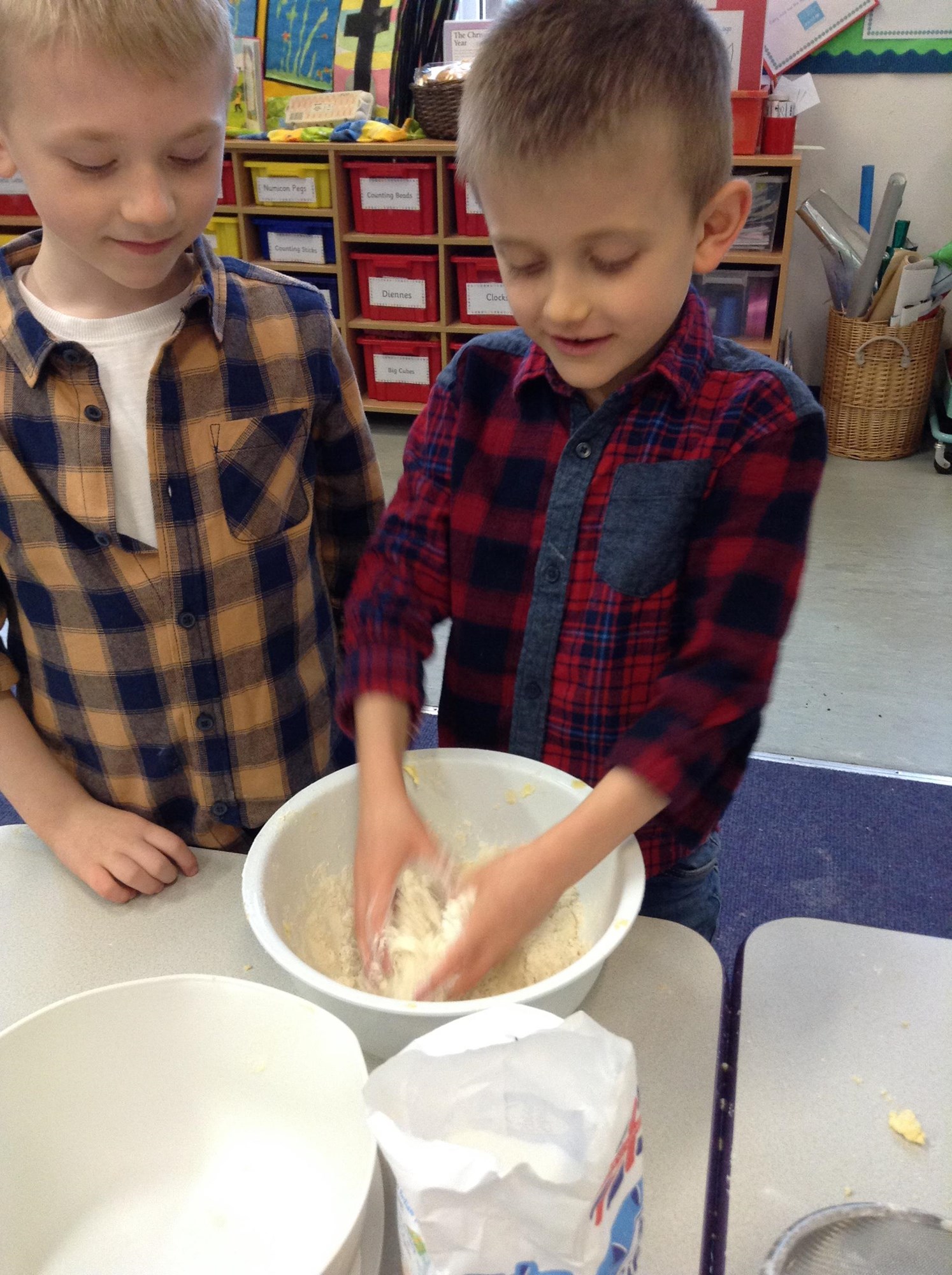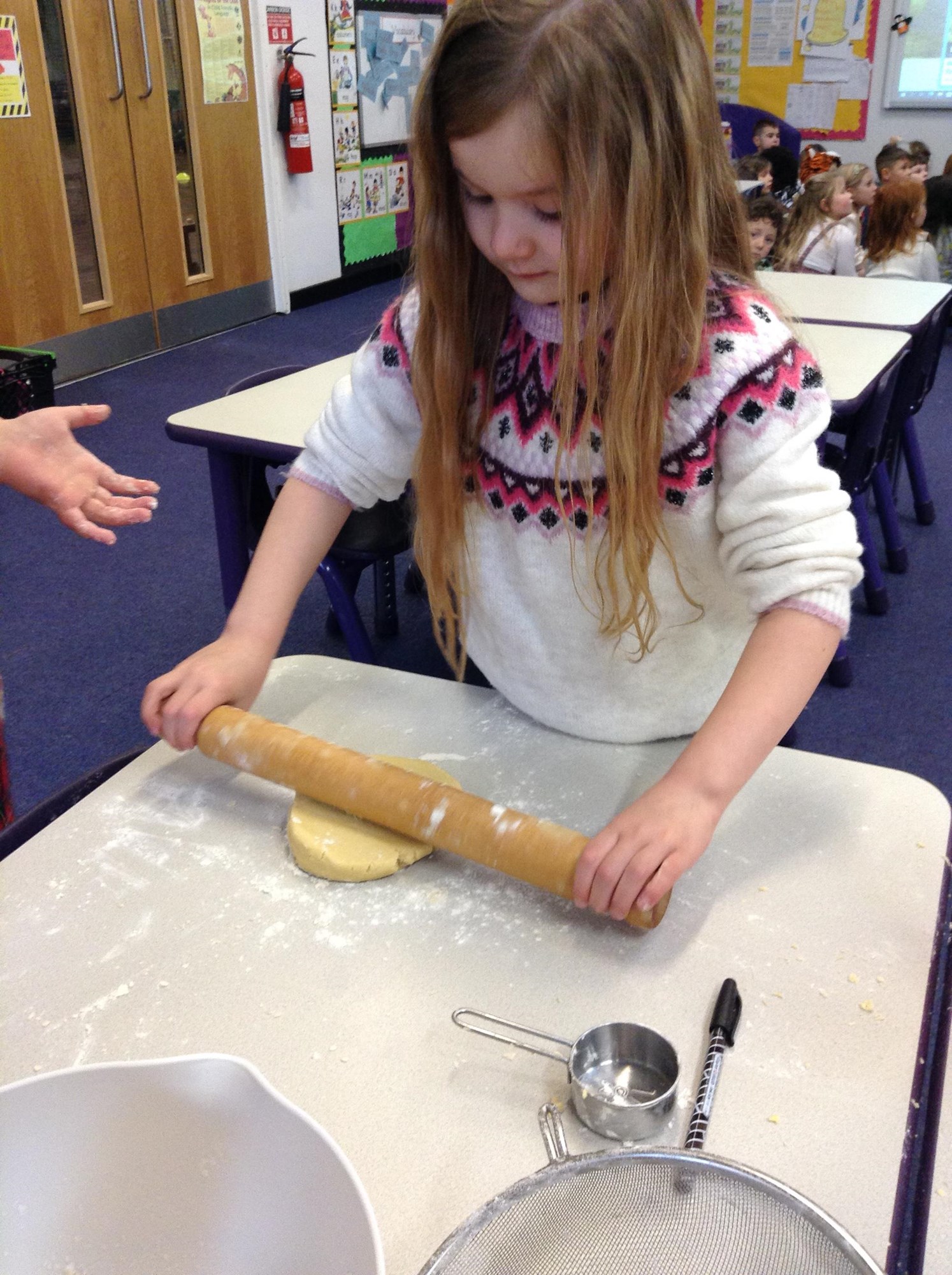 Morrisons 'It's Good to Grow' scheme
The children have had lots of fun using the new gardening equipment that we have received from Morrisons 'It's Good to Grow' scheme. We were able to swap your tokens for new gardening tools, seeds, plant pots and aprons. Children have been busy planting some of our new seeds in our garden area and learning more about how things grow. Thank you once again for your support in collecting the tokens for our school!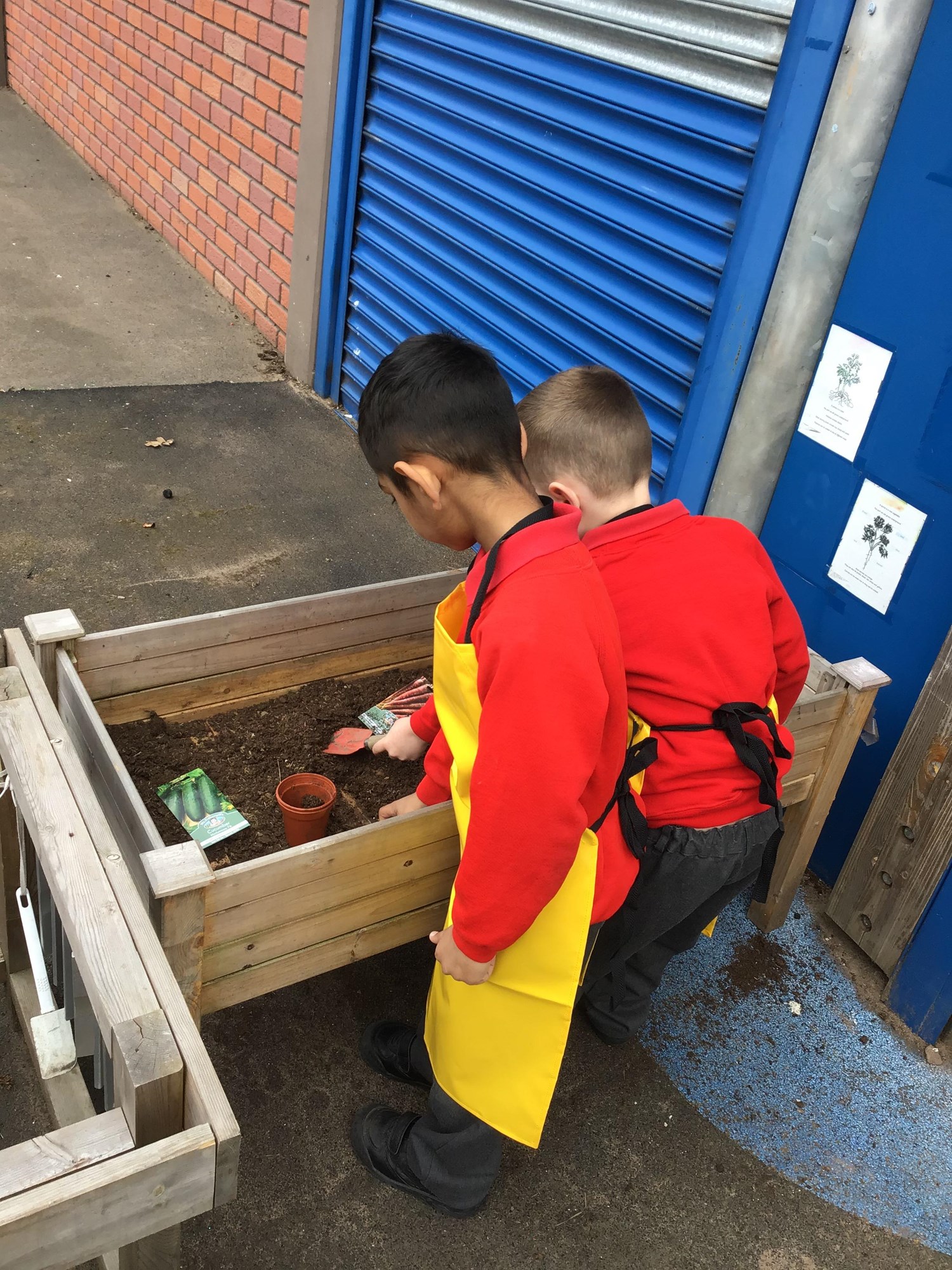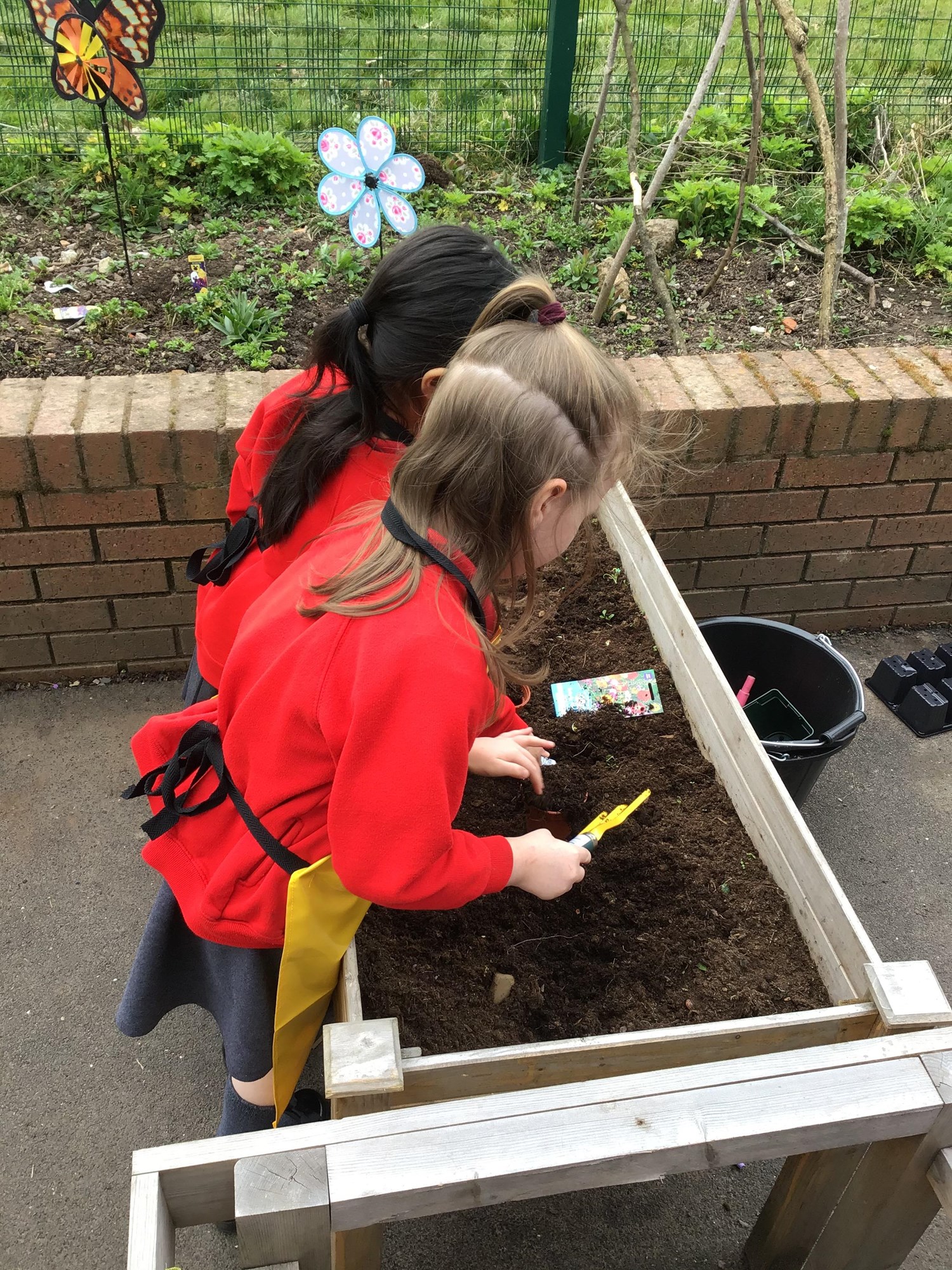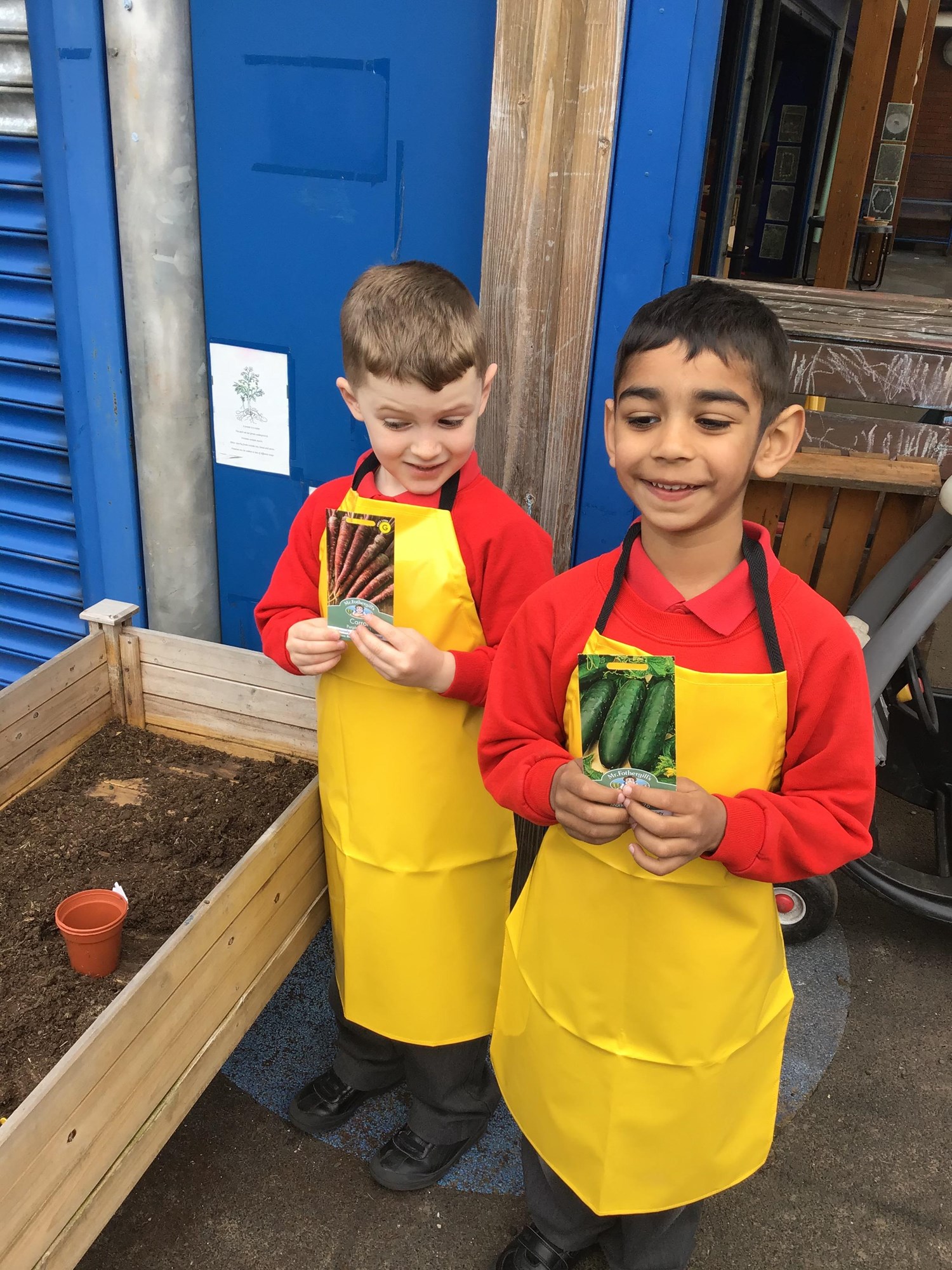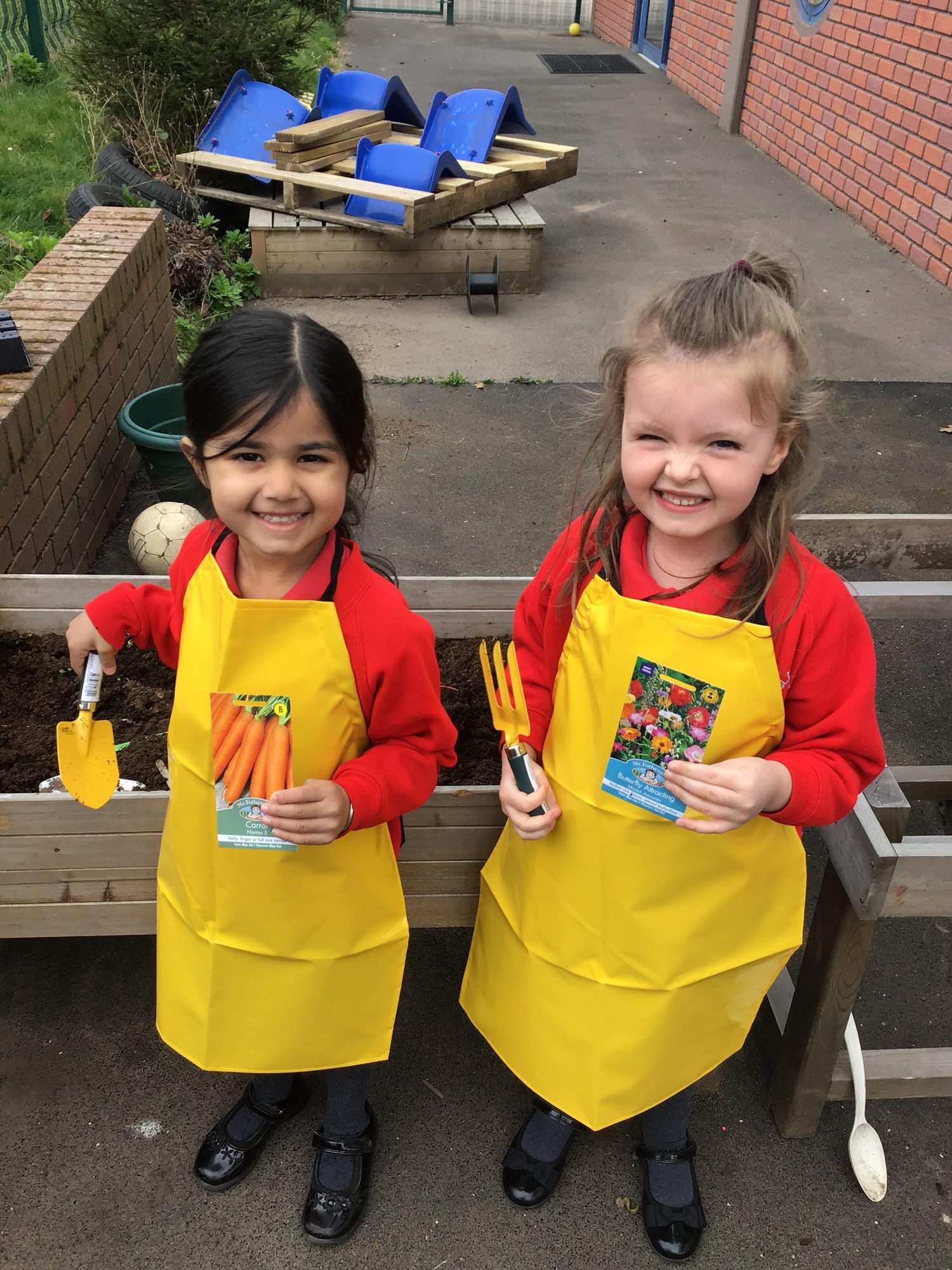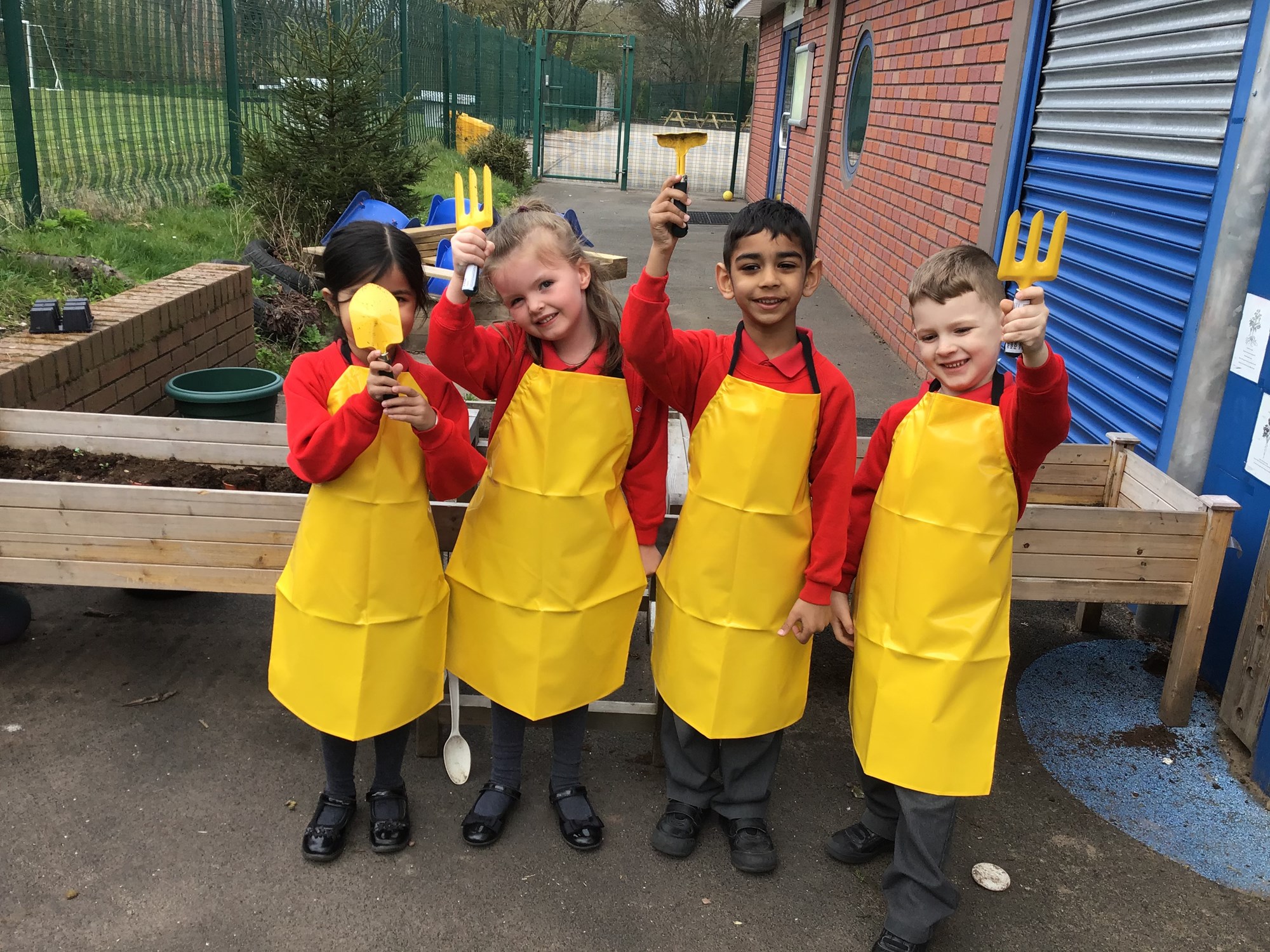 Tennis Competition
Last Wednesday, five children from year 3/4 competed in a tennis competition at Wall Heath Tennis Club. The children participated in several tennis matches against other children from different schools in the area. They showed the highest standard of sportsmanship and showed maximum effort to win their matches. They used what they had learnt from attending Mr Hyde's after school tennis club to try to beat their opponents. Overall, Blanford Mere finished fourth in the competition.
"It was literally the best day ever. The matches were amazing!" Harry 3/4M
"It was really nice to play in the tournament and I'm grateful I got picked to go." Amelia 3/4C
Attendance winners
Attendance winners for March was Year 2B class with an outstanding 96.86% - well done! They were able to wear their own clothes to school on Thursday as a reward.
KS1 and KS2 End of term treat for good behaviour
Children who have not lost 25 minutes or more Golden Time were treated to an afternoon of physical activities today both indoors and outdoors today. We are proud to announce the overwhelming majority of pupils were able to take part this term. Keep up the good behaviour! We hope those very few who lost their end of term treat, will reflect on their behaviour and improve it throughout the summer term – so they do not miss out on the fun!
'Easter Bonnet Parade'
Nursery, Reception and KS1 had a wonderful day of Easter activities. The children looked fantastic in their Easter bonnets – thank you for supporting this memorable occasion. The Easter bunny also made a special 'egg' delivery, so that every child in school and nursery received an egg, provided by school.
Year 6 SAT's
I'm sure you and your Year 6 child are well aware that the SATs tests are quickly approaching (2 weeks after the Easter break). We are asking you to support school and your children in the following ways over the holidays, so that children have regular practice with concepts that have been taught throughout the year.
Over Easter -Things the children can do to help be prepared:
Use their SATs folder and look at old papers that have been completed.
Mathletics.
TT Rockstars.
Monster SATs online.
Revise spelling lists in green spelling book (including Year 3/4 and 5/6 lists).
Read daily.
CGP books.
Have a rest!
Little and often is best – don't cram the week before! Please remind them and encourage them.
Dolce – ordering lunches
Don't forget that from Monday 11th April there will be a new function will be activated on SchoolGrid to stop parents ordering from home if they do not have a credit or a Direct Debit set up on their account. This does not affect pupils entitled to Free School Meals. Or children in Reception, Year 1 and 2."
Please remember to order your child's lunch each day before they come in to school and before the 'cut off' time for parent orders. Thank you.
Covid 19 Vaccines for Children. How to Access a Vaccine for 5-11 year olds
Please see below a message for parents that we have received from Dudley's Nursing Officer:
"For decades, vaccinations have protected our children and young people from potentially serious diseases, including measles, flu, meningitis and mumps.
By the time they leave school, a child will typically have been offered vaccinations against 18 different diseases or infections – the COVID-19 vaccine is one more vaccine that children will soon be able to have to protect them from illness.

The Government's Joint Committee on Vaccinations and Immunisations recommends that 5-11 year olds be offered the vaccine, which has been approved by the UK's medicines regulator. The vaccine will reduce the chance of your child becoming unwell from COVID-19 and increase their protection against any future waves. Your child will be offered two paediatric (child) doses of the vaccine, with at least 12 weeks between doses. A paediatric dose is smaller than doses given to those aged 12 and over.

COVID-19 is still active and causing some children to miss out on their education and things they enjoy, and getting your child vaccinated will boost their immunity and keep them doing the things they love.

From Monday 4 April, parents to take your child to a vaccination centre, community pharmacy or GPs offering jabs for this age group. From Saturday 2 April you can view these sites and make an appointment through the National Booking Service or by calling 119.

Vaccinations are also available for 5-11 year olds at some local walk-in sites. Simply check the walk-in finder website before attending to make sure they can vaccinate your child."
Easter activities
Marathon Kids
New Weekly Running Event for Families
Marathon Kids is a free, weekly children's running event starting on Saturday 23rd April, 10:00-11:00am at Grange Park, Dudley. Suitable for all abilities from toddlers to teens and their families. Designed to help build every child's confidence and improve their fitness. Each event includes fun warm ups games, relay races and an endurance run. Please share the flyer in the linked article below with your school community.
Please visit the website for further information https://www.marathonkids.co.uk/parks/
Marathon Kids UK also provide schools with a free schools-based running and activity programme designed to get more kids moving and earning rewards on their way to becoming healthier and happier. To see how to get your school on board and explore the free resources available, please email [mailto:info@marathonkids.co.uk%20]info@marathonkids.co.uk or for more information visit https://www.marathonkids.co.uk/schools/
Zero to 1 mile hero!
Saltwells Stroll
Let's get moving this Easter holidays! Become a Zero to 1 Mile hero with a gentle 1-mile walk around Saltwells Nature Reserve.
Perfect for all the family, this route is suitable for pushchairs and includes benches for resting throughout. The map also includes a checklist of things to look out for.
Download the route map and find out more at: https://lets-get.com/healthy-lifestyles/move-more/lets-get-moving-challenges/zero-to-1-mile-hero/ Please share this through your networks.
Dates for the diary
Monday 25th April – Return to school – Summer uniform can be worn from today.
Girls
Blanford Mere red polo shirt (or suitable alternative) and grey school skirt, pinafore or trousers.
Red and white checked/striped dress
Sensible black shoes and white socks
Boys
Blanford Mere red polo shirt or suitable alternative
Grey shorts or trousers
Sensible black shoes and grey socks (not black trainers)
Please remind children that they should not wear nail varnish or jewellery (other than a watch and/or stud earrings) for school. Don't forget that if your child wishes to have their ears pierced the best time is beginning of the summer holidays as it is our policy that children cannot wear any kind of earrings during PE lessons.
W/C Monday 9th May - Year 6 SATs week.
W/C Monday 16th May - KS1 SATs begins.
Thursday 26th May - School closes to pupils for half term.
Friday 27th May - INSET day - school closed to pupils.
W/C Monday 6th June - Year 4 Multiplication Timestables Check begin.
W/C Monday 6th June - Year 1 Phonic Screen Checks begin and Year 2 recheck.
Thursday 21st July - School closes for the Summer break.
Have a lovely Easter break and we look forward to seeing the children on Monday 25th April at the usual time.
Mrs Miller and Miss Stanton